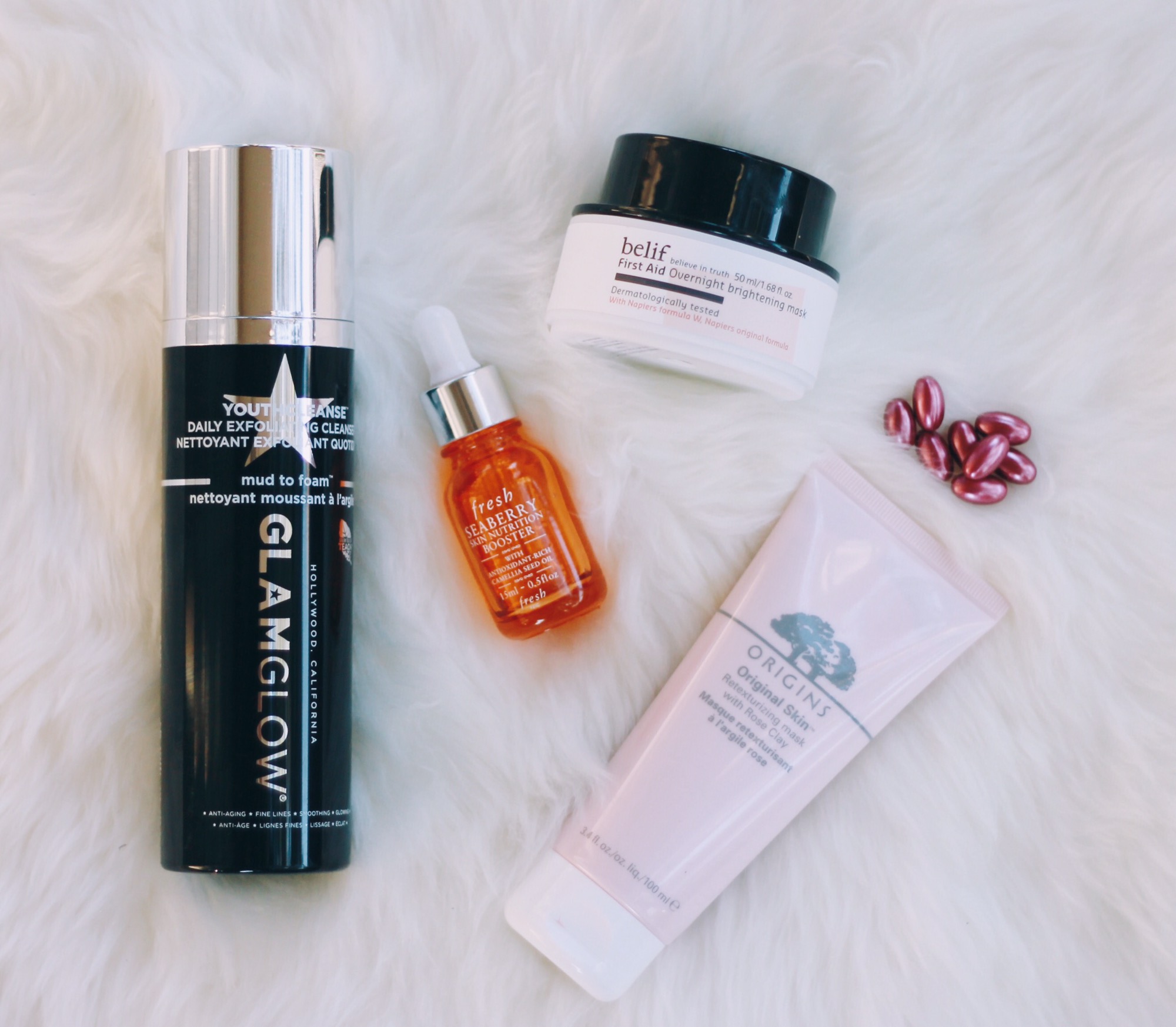 Previously, I shared a post about Five Tips to Your Best Skin and I mentioned many of my skin challenges and tips on how to overcome them. You can consider this a continuation of the post, this specific one shading light on my night time routine and why it is your best bet at winning with your skincare regimen.
This is wordy…Grab a snack
Between my two routines (nighttime and daytime), I focus all my problem solving on the nighttime routine and you should too. Here's why…
A research study at University of California-Irvine found that new skin cells grow faster while you sleep.
Another study from University of Copenhagen, Denmark found that the growth hormone stimulates the production of collagen. The main purpose of collagen is to help skin withstand stretching. Read more on this article I wrote about Collagen here.
Melatonin is produced while you sleep and acts as an antioxidant that fights fine lines and age spots.
Production of cortisol (stress hormone) is reduced while you sleep. Cortisol can cause discoloration, and thinning skin.
So how is all this important? Think of your nighttime routine as an opportunity to feed your skin with all the nutrients it will need to repair your skin. And with that being said, allow me to break down for you, my products of choice in the order that I apply them.
GLAMGLOW YOUTHCLEANSE™ Daily Exfoliating Cleanser
What it is: A daily cleanser that transforms from mud into a foaming lather to gently exfoliate, cleanse, and renew skin to create a more youthful-looking, glowing complexion.
My Take: Taking makeup off with a wipe is never enough. I prefer a cleanser that also exfoliates for a deeper clean. What I like most about this cleanser besides the fact that it feels like I'm giving my skin a good scrub, is that it's packed with anti-oxidants from ingredients like acai, flaxseed and green tea (I have an entire post dedicated to green tea here). Anti-oxidants reduce formation of radicals that could cause aging and and all kinds of health complications.
This cleanser leaves skin smooth and soft and at times I find myself using it in the morning when my skin needs a kick start. More information on Sephora.
Origins Original Skin™ Retexturizing Mask with Rose Clay
I save this product for the weekends as it is not recommended for daily use and I alternate it with The Aztec Secret Clay Mask which I wrote about here.
What it is: A two-in-one purifying mask and skin refiner that's formulated with Canadian willow herb, Persian silk tree, and a potent blend of actives to smooth, refine pores, and boost skin's overall quality.
My Take: Everything you need to know about clay masks is written in the Aztec Secret Clay Mask post so I will save you the repetition. Overall, I use it to clean clear my pores after a long week of makeup, dirt and oil clogging my pores. I will tell you this though, 10 minutes, is how long you need to leave a clay mask on or it will dry your skin. More information on Sephora.
Belif First Aid Overnight Brightening Mask
So there's a rule to layering products on your face; start light and thin then finish off with the oils. Serums are usually light weight and used for treatments. Moisturizers seal serums into your skin and oils lock in the moisturizer in addition to treating. Mixing up the order can lead to less penetration of the other which will give minimal results.
That being said, my layering starts with a moisturizer (I will explain later) and I can testify by the Belif overnight mask.
What it is: A brightening mask that can be left on overnight to reveal radiant skin by morning.
My Take: It is very hydrating and helps take away the dullness. Most of the belif products focus on hydration and leave skin feeling full and bouncy. More information on Sephora.
Fresh Seaberry Skin Nutrition Booster
This is my choice of oil. I consider this my first-aid skin repair. I use this once or twice a week, mostly when my skin looks dull and I need an overnight miracle, and this oil has never failed to deliver.
What it is: An antioxidant-rich booster of concentrated oils and extracts specifically designed to be mixed with face and eye creams for amplified protection and nourishment.
My Take: Because I do not need to use this everyday, there's no need to put it in any of my other products. However, when I reach for it, I apply it over my moisturizer. This oil right here is it…I'm talking overnight results. The tiny bottle is packed with anti-oxidants and nutrients that give your skin an overnight make-over. Pricey for the amount but worth every drop. More information on Sephora.
Nature's Bounty Extra Strength Hair, Skin & Nails Softgels
I recently got into the supplements game and now I see what the fuss is. I found this while wondering around the isles of CVS during my pharmacy internship and decided to give them a try.
What it is: It contains just the right balance of nutrients to help support lustrous hair, strong nails and vibrant skin.
My Take: I take 3 capsules once or twice a week and they too give visible results overnight. Biotin gives you healthy hair, skin and nails, and Argan oil helps with dry skin and acne. The supplement gives skin a more youthful appearance, although I am yet to see my hair grow. More information here.
Final Take:
I reach for the cleanser and overnight mask on a daily basis and every now and then, I can go for either the oil or the capsules. I save the clay mask for the weekends unless my face breaks-out during the week. I use all five when my skin looks tired from a stressful week or day, or when I have somewhere special to go and I need my face at its best.
So now I can explain why I do not apply a serum. Most of my products have the same nutrient components that deal with dullness and nutrition so there's no need to add a serum that will do the same exact thing. Also, I think of serums as the go hard option, when you have a skin issue that needs serious attention like acne. The good serums are expensive, so if you're like me and are simply maintaining, you can afford to pass on the serum.
That was short, wasn't it?
Till next time, B.
Disclaimer: All product views are my own (So you shouldn't worry that someone might have paid me to say nice things ☺️).