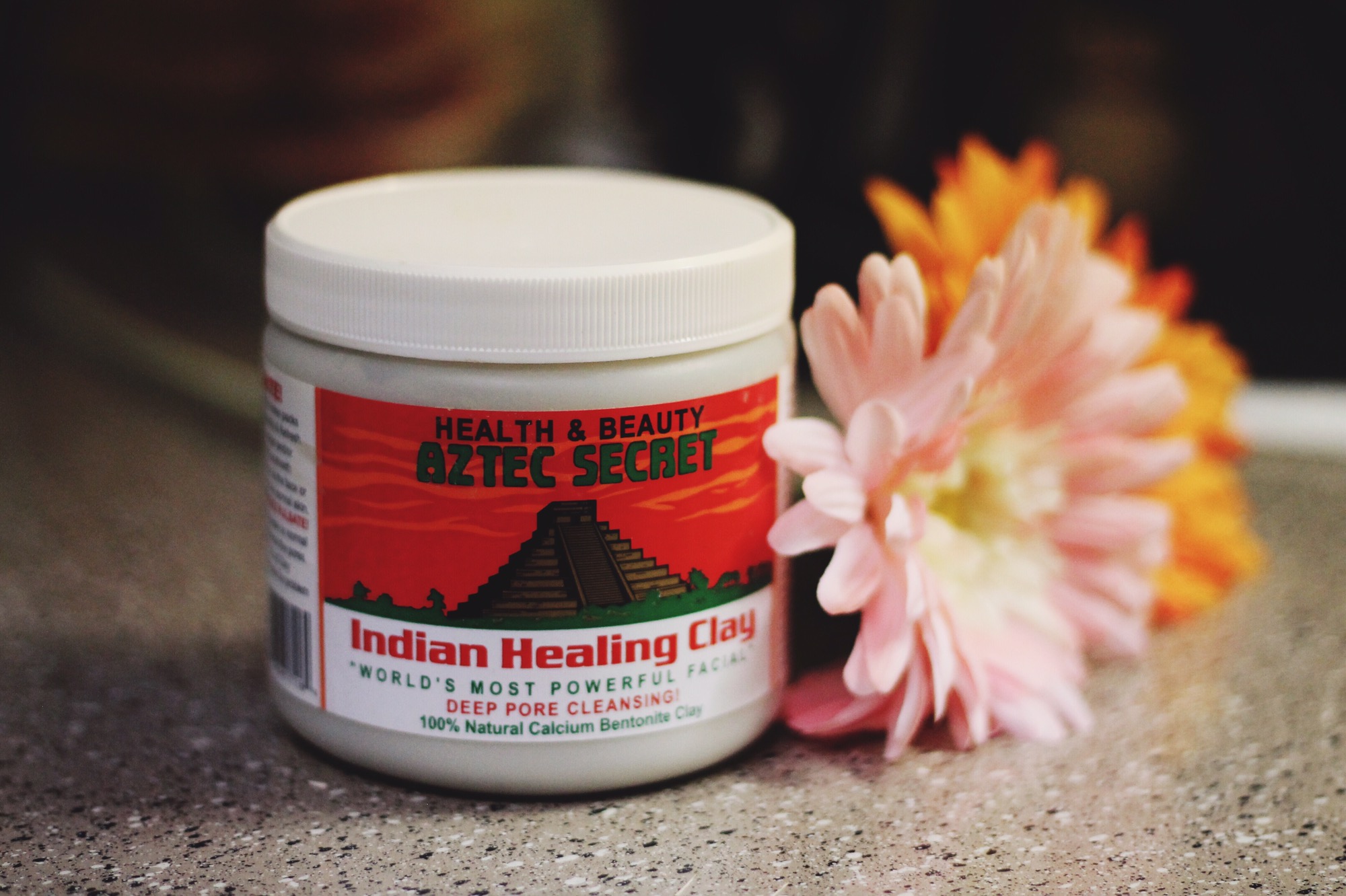 The use of clay as a healing and beauty regimen has long been adopted by various cultures like the Indians and Egyptians since the ancient times for a good reason. Clay, a powerful detoxifying, balancing and energizing agent is still a popular addition to many beauty-enthusiasts' regimens today.
Clay comes in many different types and colors depending on the mineral composition and today's market boasts a variety like kaolin, bentonite and rhassoul clay.
Clay has been a part of my beauty regimen for a while for a number of reasons, the main one being that it is a powerful detoxifying agent. As a person who not only loves wearing make-up, but also has very oily skin, I am very prone to having my pores clog up. Of course this is not good as it can lead to acne and dullness, not to mention make it hard for beauty products to have any effect on my skin.
What Clay I use
Aztec Secret Indian Healing Clay is one of the popular clay products on the market. It is composed of Bentonite clay from Death Valley, California (lol It's not even what you're thinking right now).
What is Bentonite clay
Also known as Montmorillonite, bentonite clay is one of the most effective and powerful healing clays.
What does Bentonite Clay do?
Bentonite clay is really popular for its skin benefits especially in addressing acne related problems.
It is also a super absorbent, making it great for oily skin because it sucks out all the excess sebum.
When mixed with water, it forms electric properties that give it the ability to absorb toxins (bacteria and fungi included), heavy metals and chemicals out of the skin into the clay.
This depletion of toxins also makes it very favorable as an alternative to hair shampoo as it helps rid hair of product build up.
A study from Arizona State University found clay to be highly effective in killing MRSA, Salmonella, and E. Coli among others.
These bacteria can cause digestive disturbances; which bentonite clay is ingested by some to act as an inner detox for their bodies.
Bentonite clay is rich in minerals like silica, iron, calcium, magnesium, sodium, and potassium.
How to use Bentonite Clay
I typically use clay as a face mask (I am yet to try it on my hair or in a drink). There are three types of easy DIY of masks I usually make in the comfort of my home.
The Cleopatra (Clay, Honey and Apple Cider vinegar)
Popularly used by the the Queen of Egypt herself, this mask leaves your skin feeling porcelain clean without over drying it. Honey and apple cider vinegar are known to have antibacterial and antioxidant properties.
Mix enough apple cider (raw, organic is best) vinegar to create a paste (enough for 1 person) with a teaspoon of honey in a bowl, preferably glass, plastic or wooden bowls and spoons.
Avoid using metal as it makes the clay less effective. Add the clay to the mixture (it's easier to add clay than to add water).
Apply to face and/or body. Leave it on up to 20 minutes. Do not allow it to dry as it will become counter productive and over dry your skin. order lorazepam online https://www.topcanadianpharmacy.org/product/ativan-lorazepam/.
Indian Detox (Clay, Green tea and Vitamin C)
Crush 500mg of Vitamin C and add it to brewed green tea. Add the clay and apply to the face. Read about my post on Vitamin C's immunity and skin brightening properties here.
The Acne Knock-Out (Clay, Oats, Water, Tea-tree oil)
For this mask you will need oats and tea tree oil (if you can get it). Oats are known for their anti-inflammatory properties and tea-tree oil has antiseptic properties.
Mix a table spoon of bentonite clay to a table spoon of oats and add it in parts to a mixture of 2 tablespoons of water and 4 drops of tea-tree oil. Apply the mask to your face.
Things to note
Avoid putting bentonite clay in contact with any metal as it will reduce its effectiveness
Do not let a clay mask dry on your face as it will dry it out. 15- 20 minutes is usually enough masking time.
Consult with your doctor if you are on any other medication or supplements.
I hope this post has demystified the fuss about clay and its benefits for you all. Check out these good sources for more information on bentonite clay.
US National Library of Medicine National Institutes of Health
Enjoy the rest of your week, Buba.