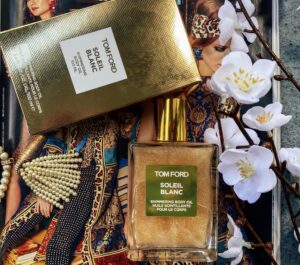 I learned from my mother never to keep fragrances for special occasions. My mum will wear fragrance anywhere, even to bed.
The lingering scents of white flower, vanilla and on an unpredictable night, oud, have helped lighten up dull quarantine moments for me.
Believe me, I wear body oils more during the winter, to keep that skin moisture intact. Soleil Blanc Shimmering Body Oil is the newest addition to my vanity favorites. A mostly dry oil, it's good to look at and even better to wear.
The scent is warm and spicy with a surprisingly light finish. Most scents in this family tend to be heavy, but this is comfortable enough to wear day, night or to bed. It's soft and light, yet hard to ignore and it lingers all day.
The glitter is subtle which makes it perfect if you want a little sparkle without feeling like a showgirl. The overall effect will be a warm glow, with specs of shimmer here and there.
This is a perfect gift for someone sophisticated and poised.
Key fragrance notes: Bergamot, Pistachio, Coco De Mer