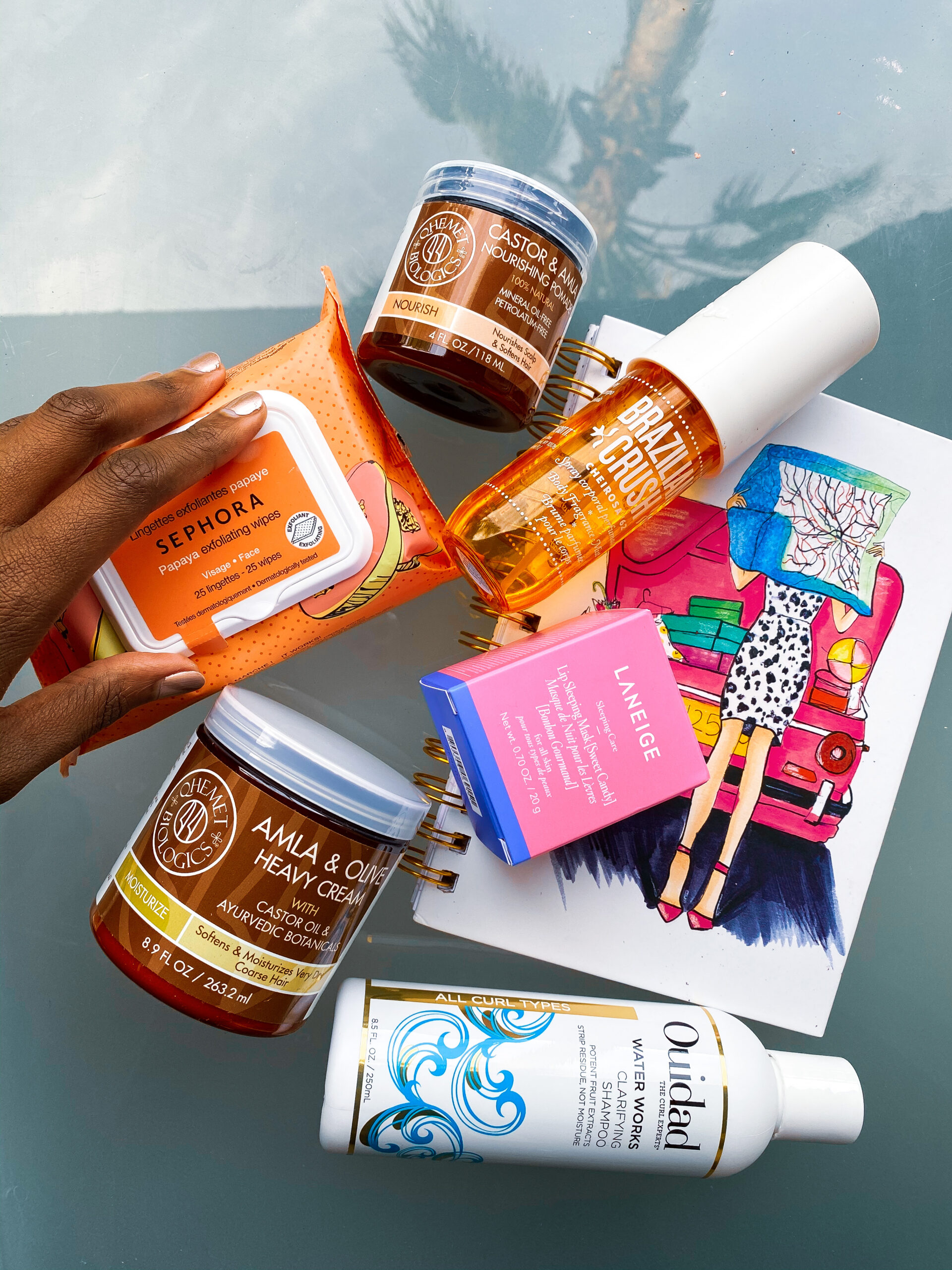 While people have been panic buying food, I've been panic buying beauty essentials—hear me out. If there was anything that would have run out and needed no immediate replenishment, it would be stuff like hair shampoo and foundation (right?).
The stash I'm sharing this time includes hair products my hair loves and some skincare veterans that I never allow myself to run out of.
Ouidad Water Works Clarifying Shampoo
I once took a major leap of faith and experimented with Dry Bar's Charcoal shampoo and I was blown away by how well my hair responded to it over the usual creamy coconut filled concoctions. I later came to learn that there're different types of shampoo. The list is long however, an essential type that should be in every hair regimen is a clarifying shampoo. This shampoo does the very important task of removing build up.
In the past, my hair would not respond to products because buildup was collecting on my strands and scalp. I now experiment with different brands of clarifying shampoo and the one from Ouidad works beautifully on my hair. It has a blend of lemon, grapefruit, and orange flower extracts that make sure my hair isn't left begging for moisture. Clarifying shampoos are not suitable for daily use as they can leave hair feeling very dry since their job is to remove buildup. They're great for use once a week. Personally, this is the only type of shampoo I keep since my hair type (4B) needs a wash only about once a week. Another great clarifying shampoo is the Qhemet Biologics Egyptian Wheatgrass Cleansing Tea.
Amla & Olive Heavy Cream – Qhemet Biologics
I use the LCO (leave-in, cream and oil) method and this is my cream of choice. My hair tends to dry out easily and my busy schedule doesn't allow me to make mid-week check-ins to re-moisturize. This cream will keep my hair moisturized all week with its full list of scalp and strand nourishers. It is definitely a heavy cream so I would mainly recommend it for type 4 hair.
Castor & Amla Nourishing Pomade – Qhemet Biologics
This pomade doesn't just add shine, it also nourishes the scalp with Castor Oil and Ayurvedic Amla Oil which work well for hair growth. I also like to add it to my ends for extra protection.
Brazilian Crush Body Fragrance Mist – Sol de Janeiro
Sol de Janeiro prides itself as Sephora's No. 1 body brand, all thanks to their Brazilian Bum Bum Cream that smells heavenly with pistachio and salted caramel notes. The cream goes for a whopping $40 but for $19, this body spray gives you the satisfaction of the scent. It's a water-based mist, so it won't last all day however, it's portable and can easily fit in your work purse for a mid-day refresher spritz.
Exfoliating Wipes – Papaya Sephora Collection
These last two products have made appearances on this blog before and I continue to buy them because they function really well. Sephora's Exfoliating wipes have been a constant in my routine for a while. They have a smooth side which removes make up and a gritty end that exfoliates lightly. These wipes are a great first step in taking off makeup before using your cleanser.
Lip Sleeping Mask – LANEIGE
The LANEIGE Lip Sleeping Mask is marketed as a nighttime product, but I wear it everywhere. It's simply very hydrating and I don't remember what chapped lips looked like since I started using this.
What beauty products did you hoard during quarantine?