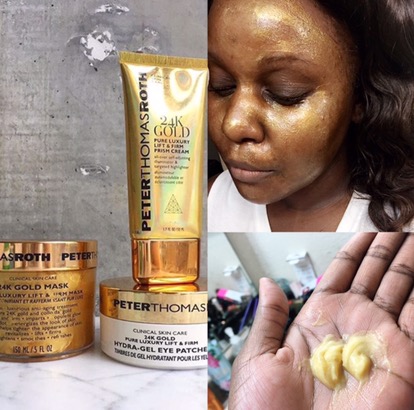 The whole time I was driving home with the set of Peter Thomas Roth's 24K Gold beauty products, I kept wondering how much gold I could actually get if I figured out some extraction method. The process playing out in my head seemed long and tiresome, plus I didn't know where to find an ATM thief so I decided to stick to putting them on my face.
The 24K Gold collection included the Cleansing Butter, Mask and Cream. I had enough to last me a week (usually, you can tell if a product is crap by the third use, so you can see why I was hatching an extraction plan).
So gold infused products are getting lots of hype because they help with skin's elasticity…hence reducing the appearance of fine lines and wrinkles. Since I'm in the looking-younger-than-my-age business, skin rejuvenating products are a yes for me.
Lets Begin…
I started with the cleanser, official name, 24K Gold Pure Luxury Cleansing Butter ($55) which melts makeup.  I slapped it on there, rubbed it around for some seconds and proceeded to wash my face. I skipped the part where I use the sponge…so there's that.
The product has a soft scent and is feels light on skin which made me doubt if it would really remove all my makeup. Post washing, my face felt super soft – I was almost sure there was still makeup on there. When I looked in the mirror, nothing. I tried with a wipe, used my fingers to scratch at my face…nothing. It removed everything and left my face feeling very hydrated…okay 24K Gold cleanser, I see you.
Onto the mask which they call the 24K Gold Mask Pure Luxury Lift & Firm Mask ($80). It's thick, has a gold tint and a luxurious feel. I applied it and waited 15 minutes. Once I washed it off, my face felt hydrated and looked a little brighter. Honestly, I've seen cheaper products do a much better brightening job than this mask so I wasn't fanning out over the results.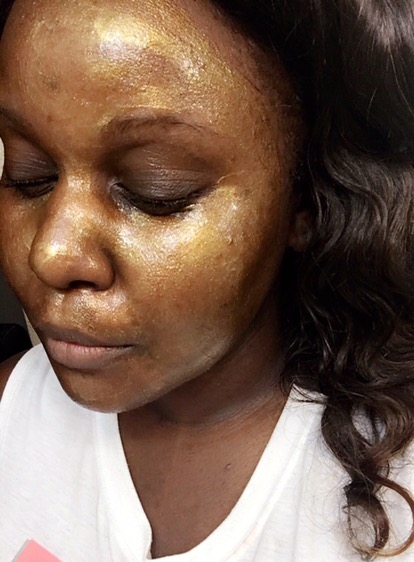 Read This: Five tips to your best skin
The cream – called 24K Gold Pure Luxury Lift & Firm Prism Cream ($42), is a thick rose gold consistency that looks like a liquid highlighter and claims to give a facelift.
I put little bits all over my face and gently rubbed it in until I got an even look all over. It reminds me of those foundation primers that are meant to make you glow from within, which made me excited (and a little worried) to see how it would work under make up on my oily skin. I let it sit for about 10 minutes before going in with foundation. Five hours in and gurrlll, I looked like a light.
I wore the products all week to see if they would have major changes.
Final take…
These 24K Gold products are meant for older women who need the lift and brightening. If I'm being super honest, I wouldn't buy this even at 50-years-old. Why? Because I've seen less expensive products giving phenomenal face lifting/tightening results (hello J.One Jelly Pack).
Of all three, the butter cleanser gave the most impressive results however, I would mostly recommend it for dry, sensitive skin in older people.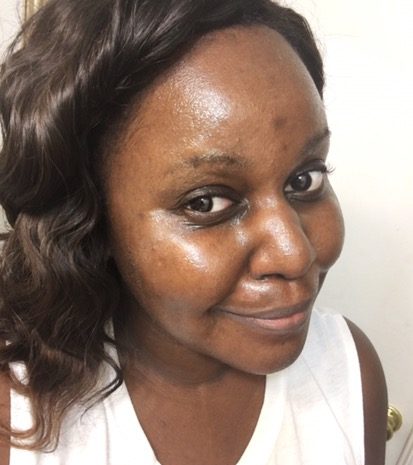 Btw, I'm still open to suggestions on that extraction thing.
Mad Love…B.
Read This: My Day-time Routine and My Nighttime Skincare Routine