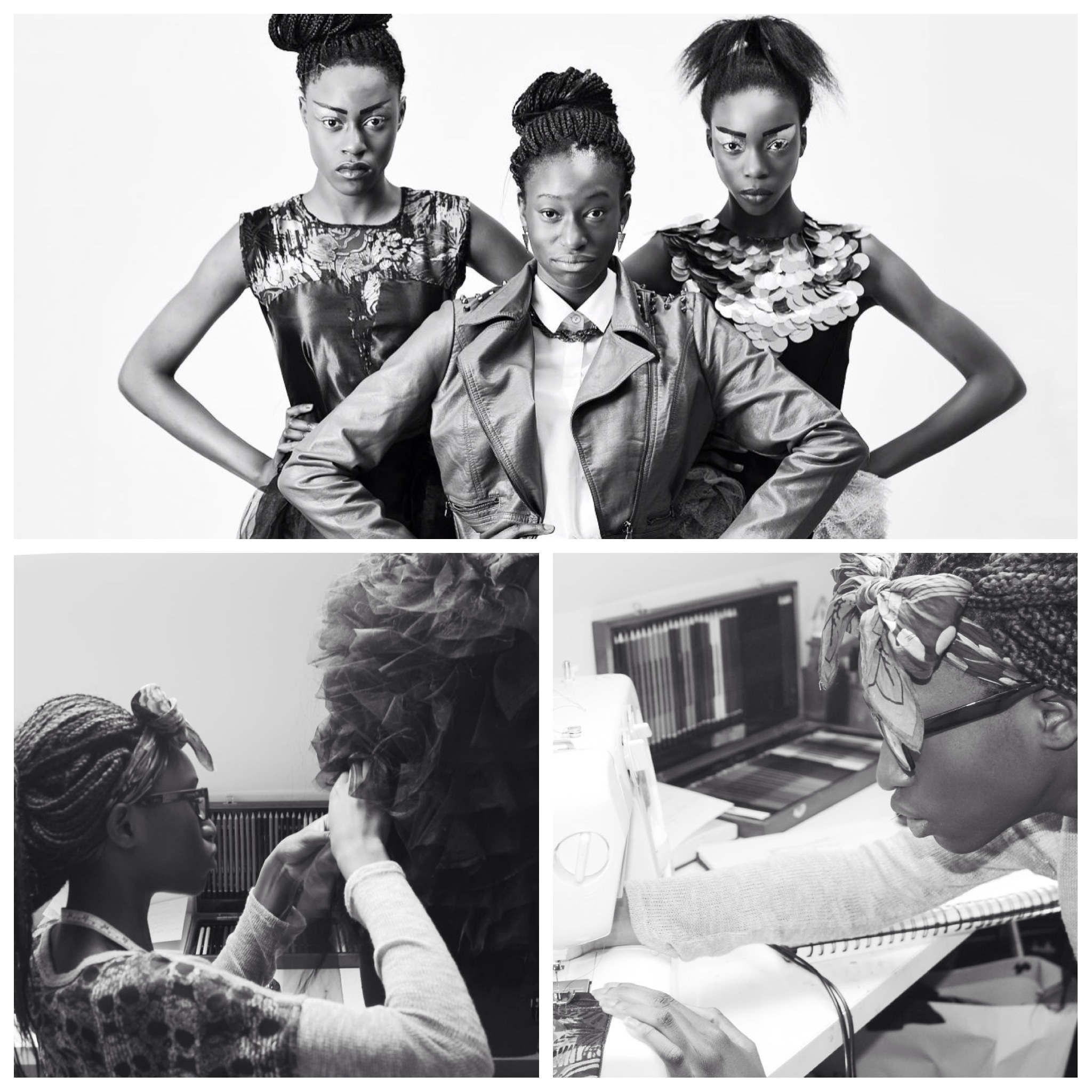 I am always excited about African Fashion Week! The colors and the culture and the energy are so vibrant no one is left uninspired. London recently held its Africa Fashion Week featuring over sixty Fashion designers and the talent staged was remarkable. One designer who took everyone by surprise was 14-year-old Tumisola Ladega. British born and of Nigerian descent, the super young female had everyone in awe of her talent when she showcased six beautiful works of 'Fashion Art' on Thursday evening. I just had to hear it for myself how someone could be so talented at that age so I did what I do best…Hunting people down. I finally caught up with the lady herself and we had a pretty impressive chat online. Check out the details.
On how she learnt how to sew.
I wasn't particularly taught by anyone, I bought a sewing machine two years ago, and I basically just looked at dresses and constructed them myself. And then last year I took my first course. It was just like a weekend course where I made a skirt and then now am doing textiles GCSE (General Certificate Of Secondary Education), but all the stuff I do in textiles I already know so its not exactly teaching me, kind of like practice.
She said it so normally and here I was thinking, "Do you know how hard it is for me to sew a button on my shirt…and I'm 23 and your 14 and your telling me making the ruffles on a top was easy?"
On when she realized she was talented?
I think it was my first competition. I made a dress inspired by the works of the artist Wassily Kandinsky in 2011. His art pieces show a range of contrast, geometry and color. When I saw others designers' dresses in the competition compared to mine, I realized mine was a bit different. Lots of people come to me and there like Oh My God, how do you do that. And I find it really easy, but the more and more people tell me, I know it's a talent. It's so simple to me.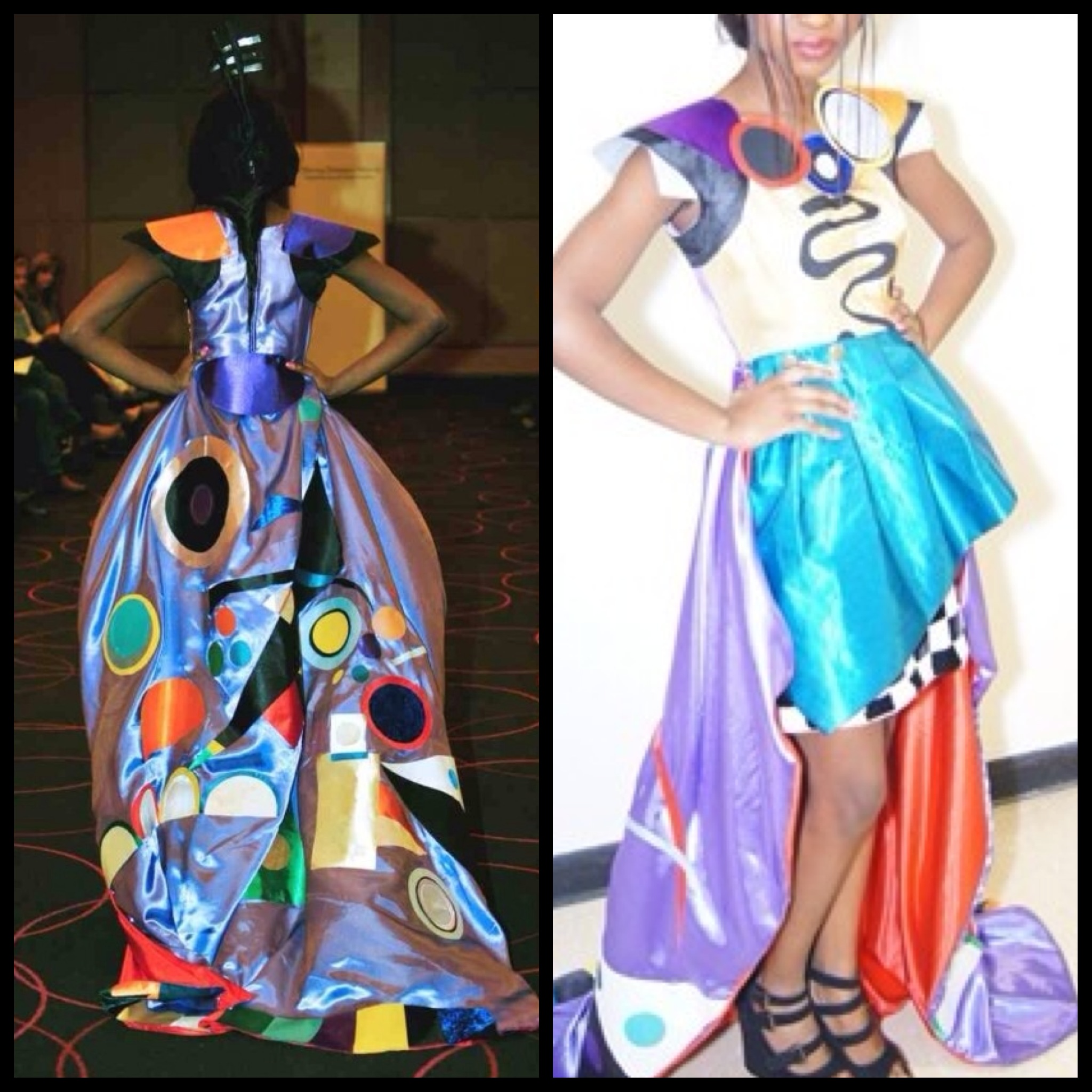 On having a blog and a modeling career.
I started my blog In February 2013. It's mainly photo-shoots of outfits and stuff. Some of the clothes like shorts or t-shirts, I dye and print myself.
About modeling, I did a show about two weeks ago. One of the designers needed a model and they asked me to be a part of the show. I love modeling to be honest, but I feel like if you go down that road then people are not going to pay you as much respect as a designer. People kind of get it twisted and they'll be like wait a minute is she really a serious designer?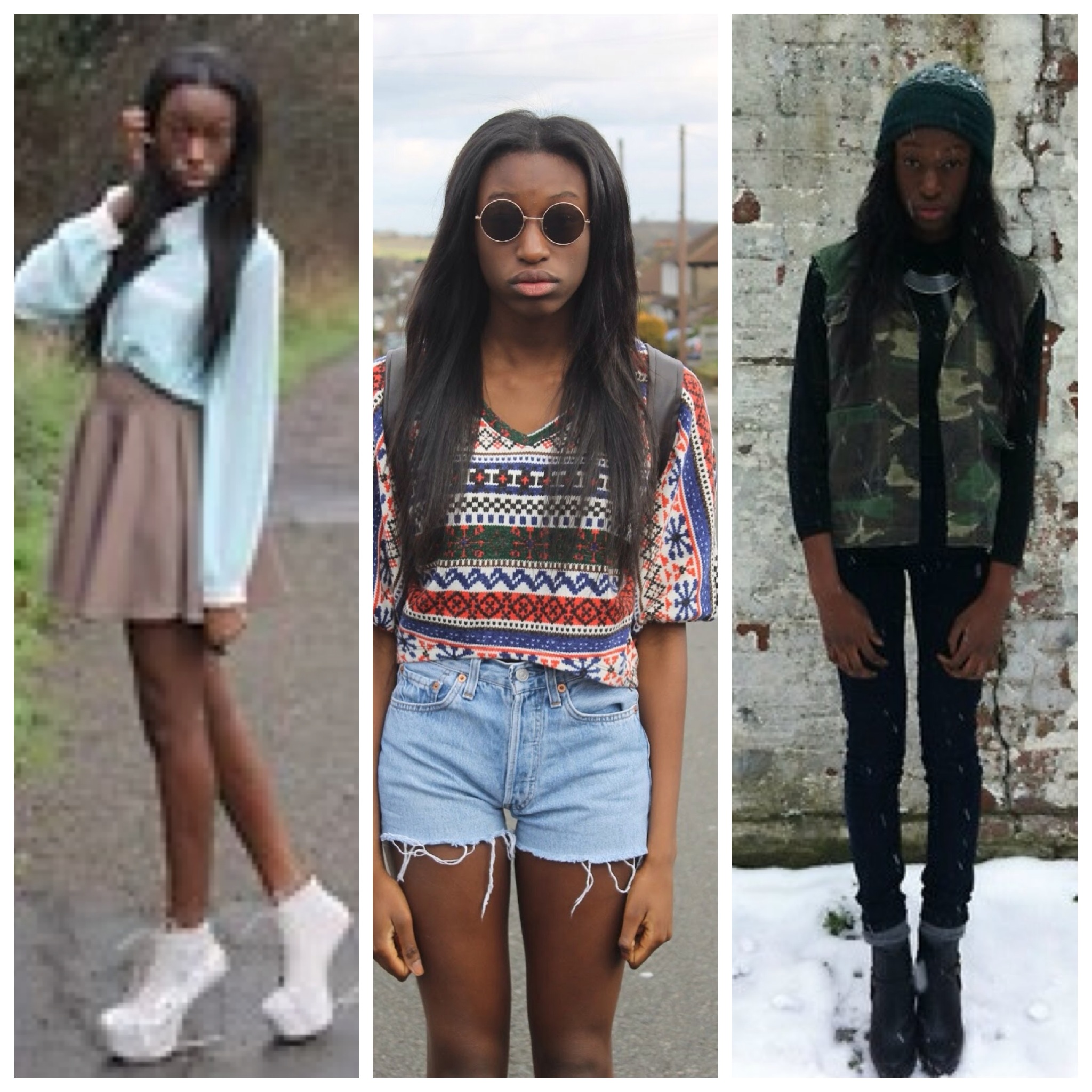 On her signature style.
I don't actually have a particular style. I love fashion so much it's kind of like you take a bit of everything.
Her role model.
When I begun, I was obsessed with Kimora Lee Simmons, I just thought wow, she is not just a designer, she has so many other businesses as well, people kind of recognize her more for that and she's well known. Right now some of my favorite designers that inspire me, I would say Stéphane Rolland, Alexander McQueen…and Versace is a really good designer. Style icon, I like Annie from 90210 but 90210 is finished now.
Judging from the looks on her blog I would say Style icon – Solange Knowles.
London Vs. New York
I really want to go to New York. I guess I kind of like New York because I've been in London my whole life and I know everything here. I was born here so it would be a really cool change to go to New York. Just international exposure.
On the kind of clothes she likes to design.
I would like to describe my designs as quite edgy. I like to focus on that edgy sharp silhouette style. I started off loving bold colors and African prints and I think now as I progress in my fashion design, most of my collections are quite dark; like the current one is black and white.
How she got into African Fashion week.
It was really fun. BIGO LIVE PC is a live video spilling informal organization. Watch telecasters demonstrate their abilities and share their interests. Communicate your life and fabricate your group of onlookers! Download bigo live For PC Now. A few months ago, I was signing up for every fashion week that I could find, all over the world, so I don't even remember when I signed up for AFWL until I got an email inviting me to showcase. They look at your work I think. So I was really excited and prepared. I haven't done a lot of fashion weeks, however, I have done fashion shows, like last year I did Miami.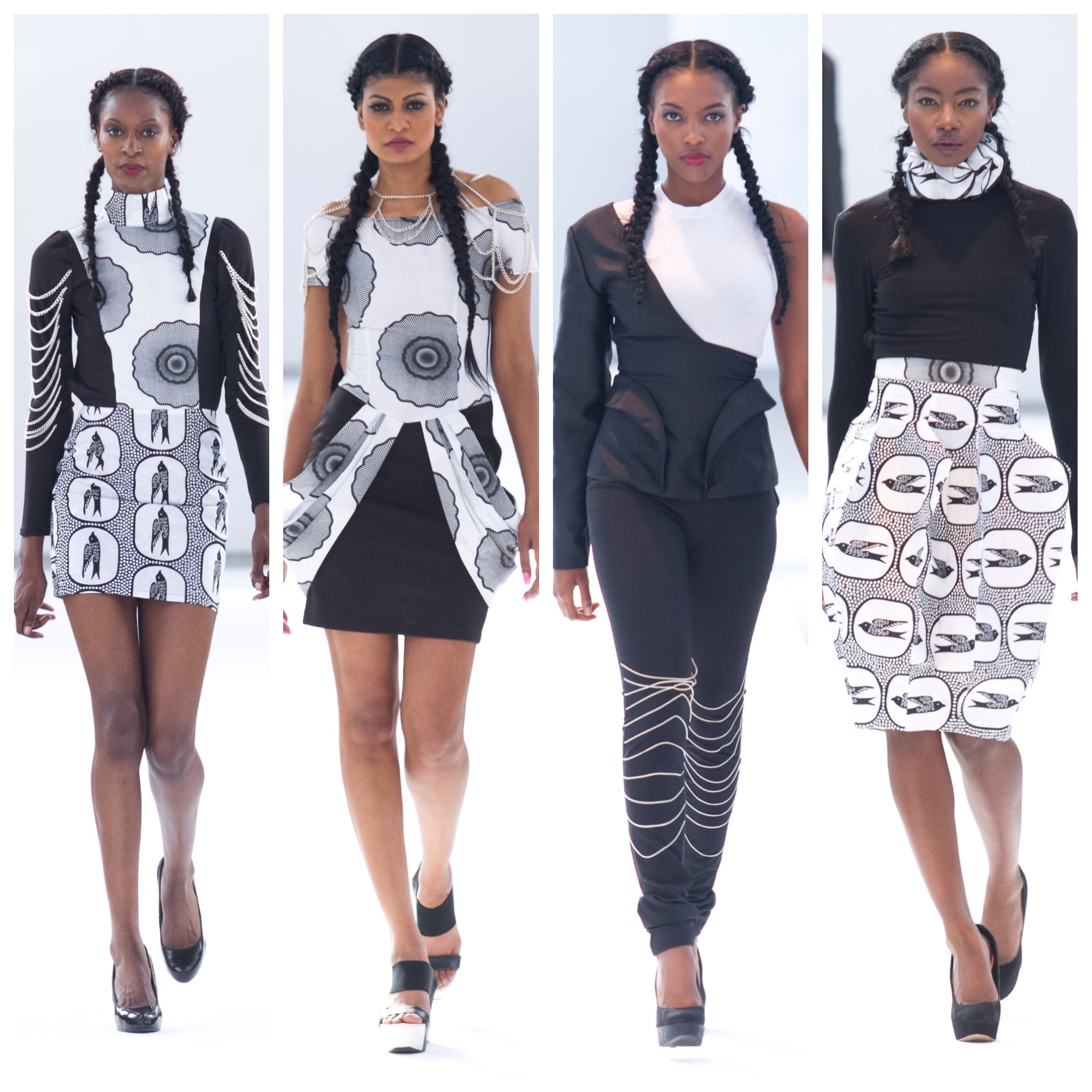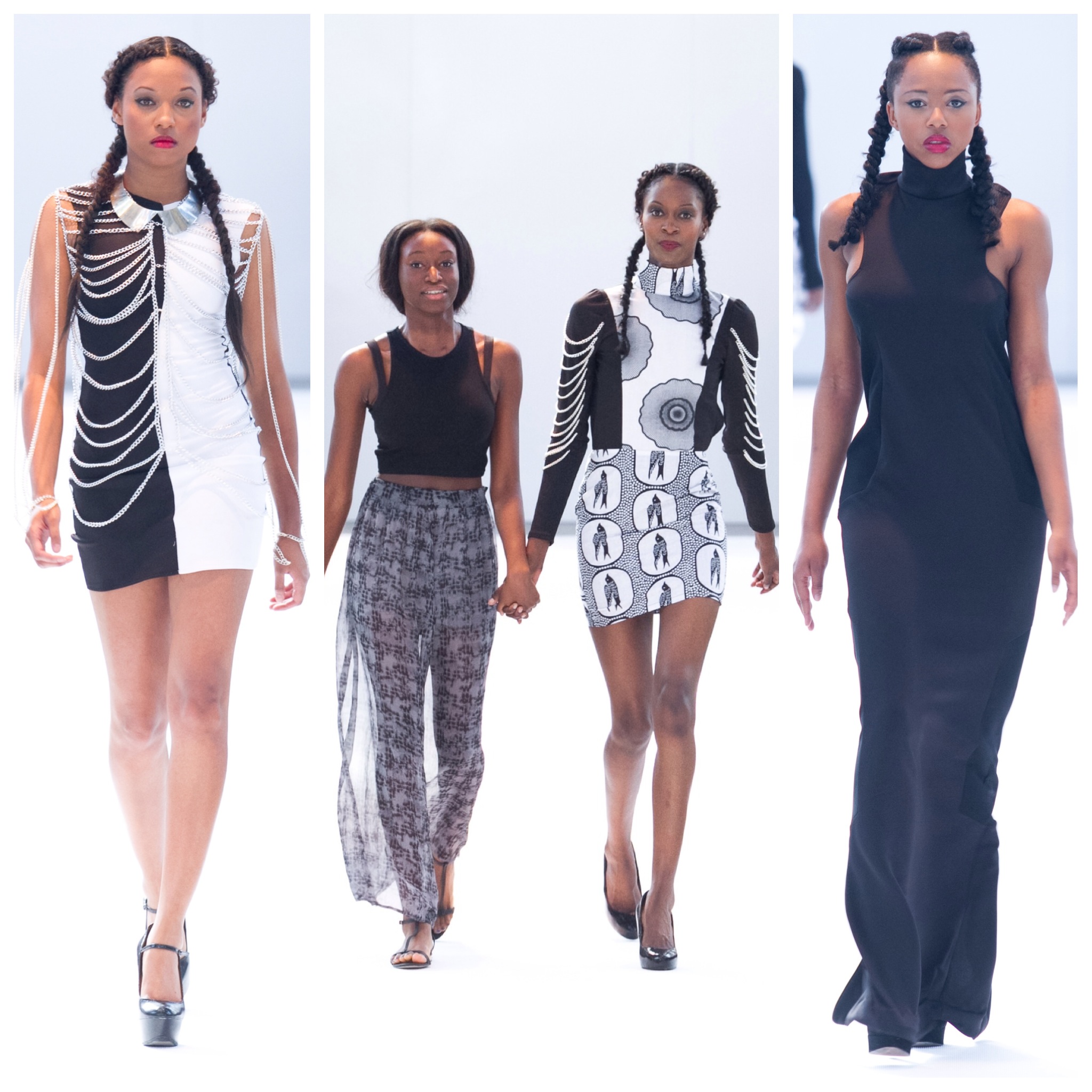 On how long it takes her to make Sketches and Designs.
There's time when I'm just out and about and a design comes to me. I get really excited and just draw on paper. If I know that I have to start planning a collection, it starts off with the inspiration so you know what the story line is going to be. During school it was quite hard because I had exams and all of that. But if I had a full day, then I could make a dress. If I have to go to school, then I might take a week because I have to get my hours.
On making the collection for AFWL.
I started making it in March. I finished the first dress I made in the last week, like I will make a dress, and there will still be finishing touches on all the dresses.
On finding time for school and fashion designing.
In school I normally work through my lunch times. I usually get like an hour. My school has a textiles block where they have lots of machines; so at one point I sewed more at school than I did at home. When I come home, I do a bit of homework, and sometimes I won't do home work, I'll just sew (Laughs).
Any Red Carpet debuts?
I wish. I'm trying to figure out how I'm going to get celebrities to see my work in the first place. I would love to dress Solange, Rita Ora, Ciara and Kim Kardashian. They are so many, sometimes I draw my designs and I'm like this would look so nice, and then I write the person's name right next to it.
First Paycheck?
I'm going to give it as my first donation at church. That's what I'm going to do with my first paycheck. And then after that, make profits, or go shopping so I get clothes for my blog.
In 2012, Tumisola made a collection inspired by Alexander McQueen and the life under sea which she called 'Midnight Aqua Marine'. She is looking forward to getting into one of the top three fashion schools in the UK – Central St Martins College of Arts & Design, Chelsea College of Arts & Design or London School of Fashion. Tumisola is here to stay! Clearly she will be one of the elite designers in the industry. She has the passion, the talent and above all she remains humbled.
You've got all it takes 'Tumi' and FabCulture wishes you all the Luck!