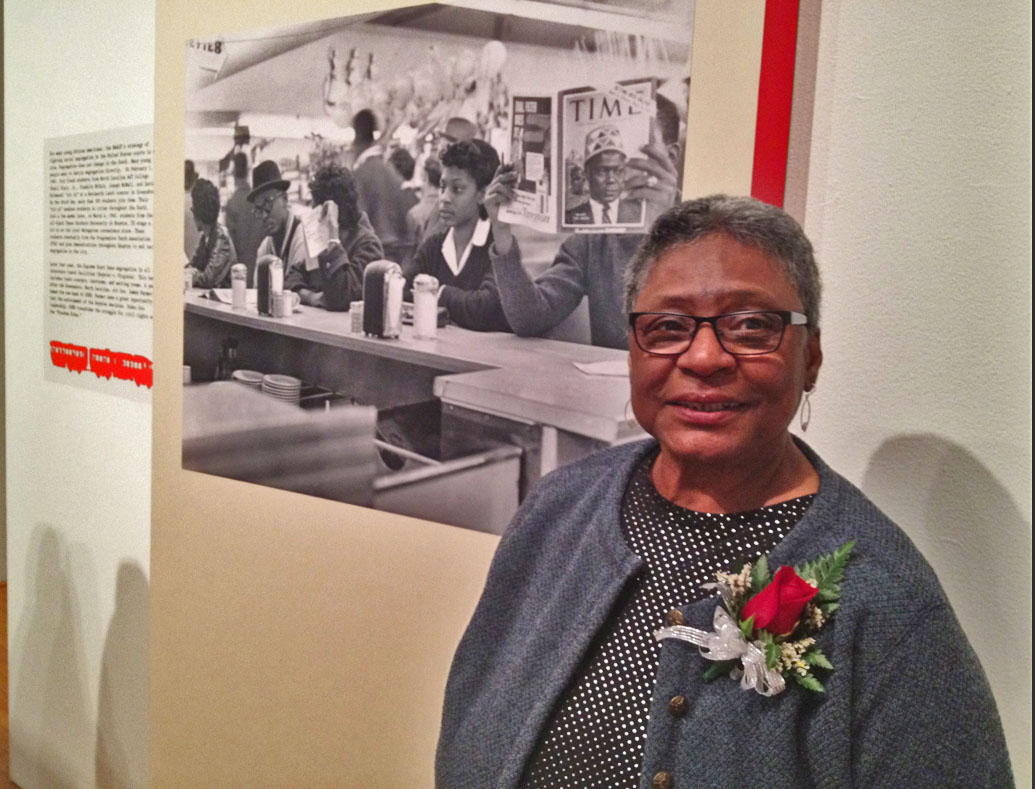 Today, the last day of February, concludes Black History month and before we kiss the season goodbye, I wanted to share a feature story that I wrote for my university's newspaper, the TSU Herald about an inspirational woman who participated in Houston's first sit-in. Also, check out my exclusive commentary at the end of the article.
Originally published in the Texas Southern University Herald on February 17th, 2016.
On a spring afternoon in March 1960, Halcyon Sadberry Watkins and 12 other students from Texas Southern University, met under a flag pole on the campus. That day, they would stage Houston's first sit-in, to protest the Jim Crow laws that banned African Americans from using public facilities and services used by whites.
The University's administrators including its president, Nabrit, had urged its students to participate in the protests, and urged them to do so in an organized manner. The students went on to start the Progressive Youth Association to strategize on how they would contribute in the fight to end segregation in the Southern United States.
On March 4th, a few hours after midday, the students gathered for an assembly, said a prayer and lined up in pairs to begin the march to Weingarten's Supermarket at 4110 Almeda Road. It was here that they would sit at the lunch counter with the hope of being served.
Watkins recollected a conversation with her partner that she had while marching to the supermarket, "She asked me if I was scared. I said, 'Yes I'm scared. My parents don't know I'm doing this and I don't know what to expect. I don't know what we're going to run into.'"
Her partner considered turning around but Watkins reminded her that they had promised each other to go through with it and they had to stay no matter what.
The students had been instructed not to react. They occupied all 30 counter stools in shifts, sitting quietly for hours, while customers hurled insults at them.
"When I first sat down, a white man that had a cup of coffee turned it over so that the contents left in his cup would pour towards me. The person cleaning came to wipe off the table and the white man told him not to, saying, 'That nigger needs to wash it off,'" Watkins recalled.
"I felt my blood boiling, I felt a heat wave across my body and I almost started crying," she said. She admitted to initially being naïve to how bad the situation was in the country and said that it was in that moment, when it hit her, that someone would have so much hate just because of the color of her skin. "That was my first real recognition of prejudice," she said.
Throughout the semester, the students participated in various non-violent demonstrations that eventually led to the end of segregation in public places.
Watkins went on to complete her undergraduate studies from Texas Southern University. She decided to become a veterinarian doctor and applied to Texas A&M University, an all-male institution at the time. The college dean told her that a woman would never be allowed to attend the institution. She went on to become the eleventh black female veterinarian from Tuskegee University.
More than 50 years after the sit-in, Dr. Watkins still feels that the hate is more subtle than it was when she was called names at Weingartens.
"We need to work on our hate…both sides, so we can improve our relationship racially," she said.
Watkins is dismayed by the violence following some of the groups participating in the on-going Black Lives Matter movement. She believes the violence is a set back for the movement and she believes it was provoked by some of the activists that wanted to grandstand and be seen as heroes.
"The violence is destroying what the movement really should be," Watkins said. "The leadership is terrible. People are not really thinking about what they really want from this action. I want students to know that they have a right to protest, but they should have a reason to protest."
Dr. Watkins is a retired professor from TSU and Prairie View A&M. She is still a practicing veterinarian in Hempstead, Texas, and is currently running for the trustee position on the Hempstead Independent School District board.
She wants to be remembered as a woman who represented the good in making the community a better place to live, and a woman who was willing to do whatever it took to achieve that.
"If I see the need for something that is worthwhile, I will not turn my back on it," Watkins said. I still want to make this a better world."
Final Thoughts
My editor needed this story in a matter of days, and because Dr. Watkins lives in another town, I settled for a phone interview. This was a first for me and I was nervous about what's going to come from the other end of the line. I worried about not having a connection and not being able to bring the emotion of the story to the reader. As the phone rang, I wondered what I'd gotten myself into however, I had to give my editor something so this was going to have to work out.
I was prepared for the worst, which in my mind was getting offered only five minutes of her time. We spoke for almost an hour!
You can still hear the fire in her voice. She is still working towards a better nation, and even if she isn't able to show up for movements of change, she uses her voice to push the younger generations to go out and inspire change, that's why she was excited to have this conversation with me.
The bit from the interview that spoke to me was the idea of grandstanding; people that do things not just for the good of others, but to simply be seen. In her days when social media was unheard of, if you participated in a movement, it was because your heart was there and you believed in change. Today, there are people that participate, just so they can get a shot for Instagram, even if they don't really understand what the movement is for. I believe that if people have the genuine passion for change, the mission will be achieved.
Enjoy March,
Mahbuba.