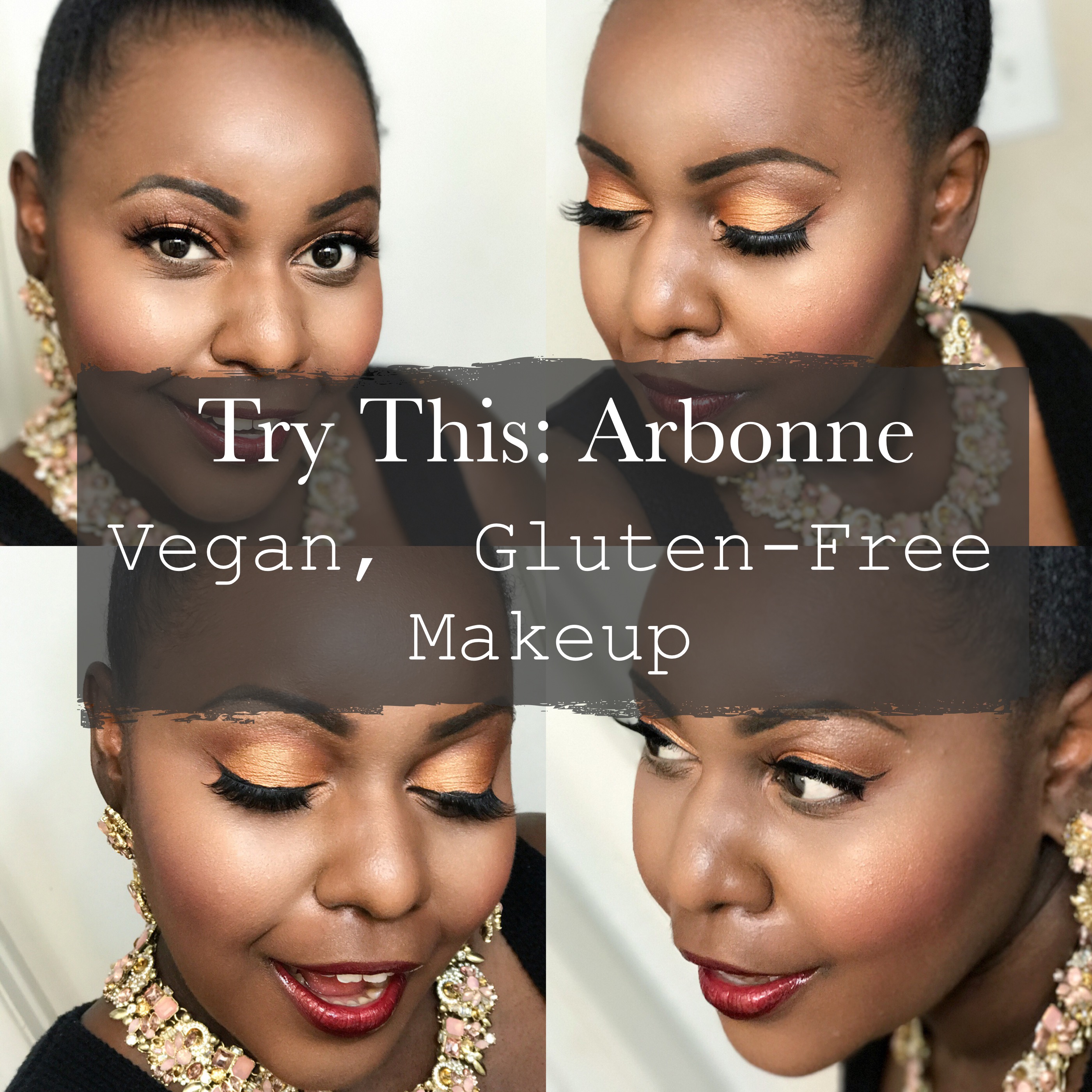 I had the opportunity to try out the Arbonne brand makeup products and I'm excited to share with you all how they worked out, with a mini tutorial on how I got my fabulous look.
Arbonne is a botanically based brand that was founded by bio-chemists, biologists and herbalists. It is hypo-allergenic, vegan, gluten free and kosher certified – and most importantly, you wont find parabens, phthalates or artificial dyes. These products are very much cruelty free y'all.
I was a bit skeptical when Claire, an Area manager for Arbonne, reached out to me and asked me to try out some vegan makeup, and as you can see from the pictures, I was wrong.
Let's dive in…
Brow Cream/Brow Pencil
The cream works best if you already have thick eyebrows that don't need to be filled in, so me and my thin brows had to use the pencil and then finish off with the cream to make them appear thicker and fuller.
Eyeshadow Primer
One of my favorite products in the line. I like to apply it using the applicator, then soften up the edges with my pinky finger. The primer creates a firm base for shadows that makes them pop and stay on literally all day. I love it. Check out my swatch of the shade Amber with and without the primer.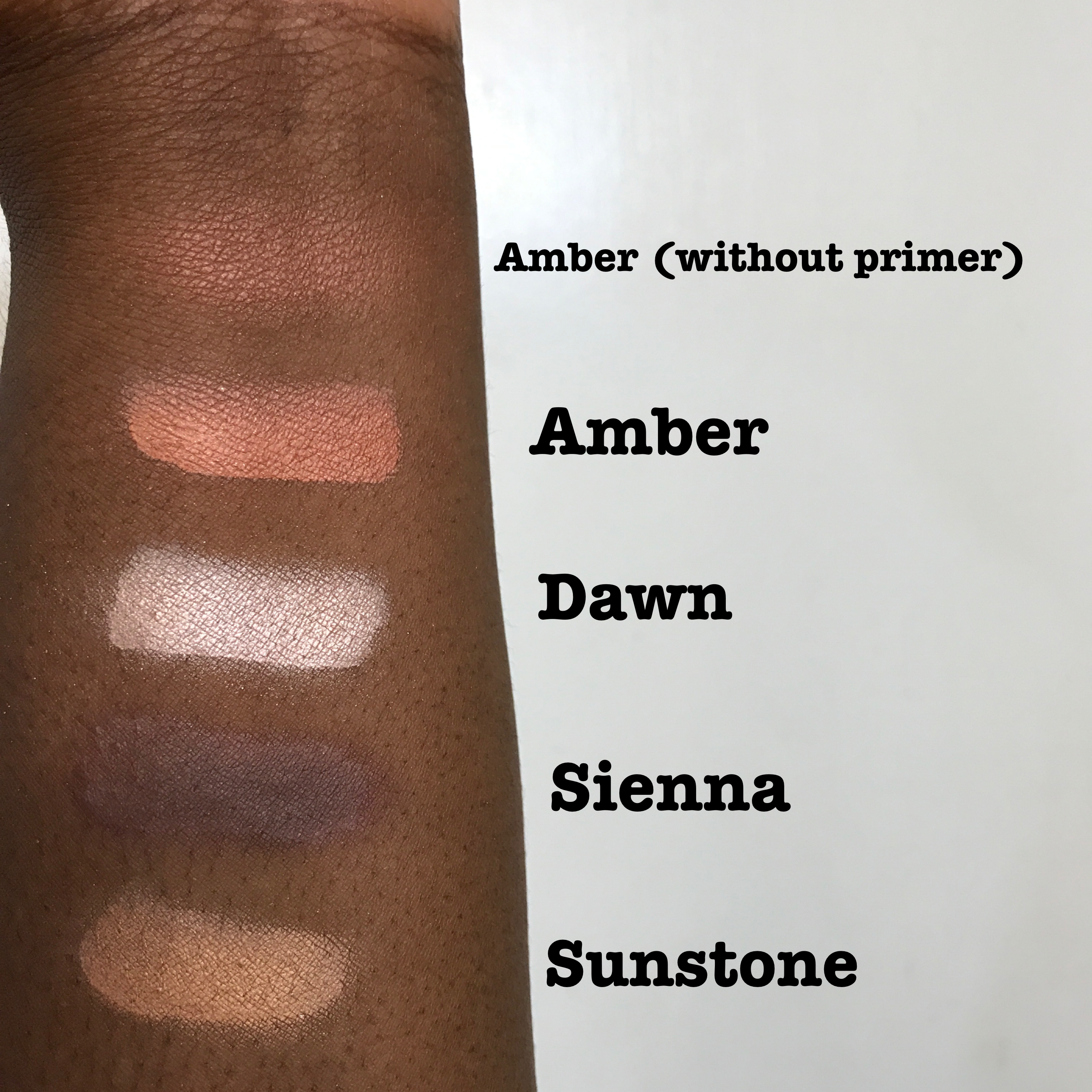 Makeup Primer
This make up primer is one of those that smooth out your skin for flawless foundation. It reminds me of the highly raved about Milk makeup blur stick (only this is vegan). Don't forget to apply it under your eyes and T-Zone to prevent creasing and anywhere else you get oiliness or shine.
Foundation
The foundation sent to me was a shade (or two) darker than my tone but I appreciate that it has SPF 15 and we could all use some sunscreen right? I used it to contour my cheekbones. The finish is natural, so it won't be too oily or too matte. If you have oily skin, apply the matte primer on your face and you will be good to go.
Eyeshadow/Eyeliner
Eyeshadow is one of the products that will prove the worth of a makeup brand. I love the consistency. The shadows apply and blend beautifully together and with other shadows, as long as you use then over the primer.
I applied Amber all over my eye area, Sunstone on my lid, Sienna in my crease and Dawn on my brow-bone and check-bones as a highlighter. Don't forget to blend blend blend.
The black Pencil Liner is a little light for me however, it works perfectly for my under-eye to make my eyes pop more. I smudged it with some of the sienna shadow to give a bit of a smoky under eye finish.
Concealer
The Concealer has a creamy finish so you know me and my oily face had to use a whole lot of setting powder to stop creasing in my under-eyes. Other than that, it has a great finish and doesn't get very oily especially with the primer (the primer is great guys).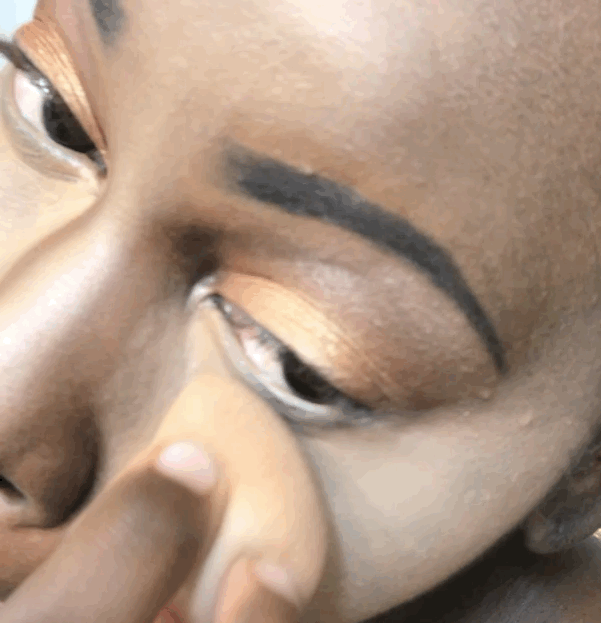 Mascara
Great for an easy daytime look. The Mascara has a light finish that doesn't clump up your lashes. Don't forget to apply it to your lower lashes for a dramatic effect.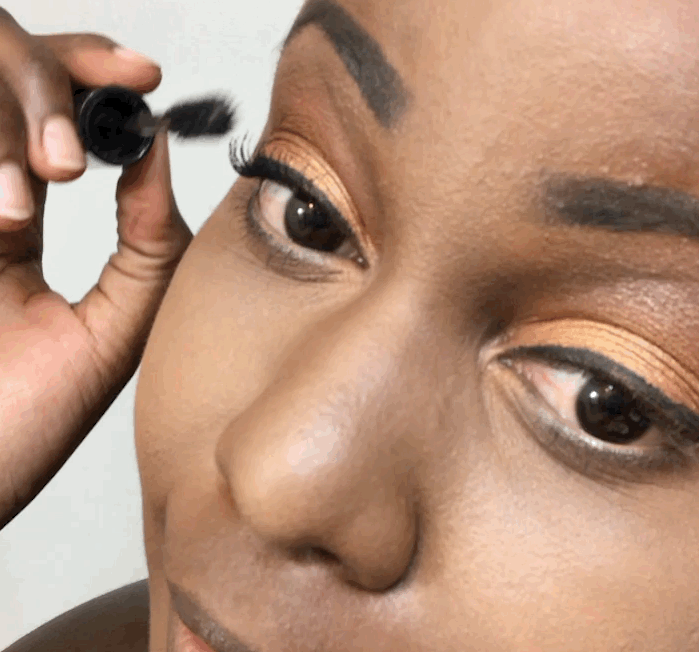 Blush
The blush is another one of my favorite products on the line – very beautiful and pigmented. My shade is called Berry, a burnt orange with a hints of gold, for the perfect sun kissed finish…love it.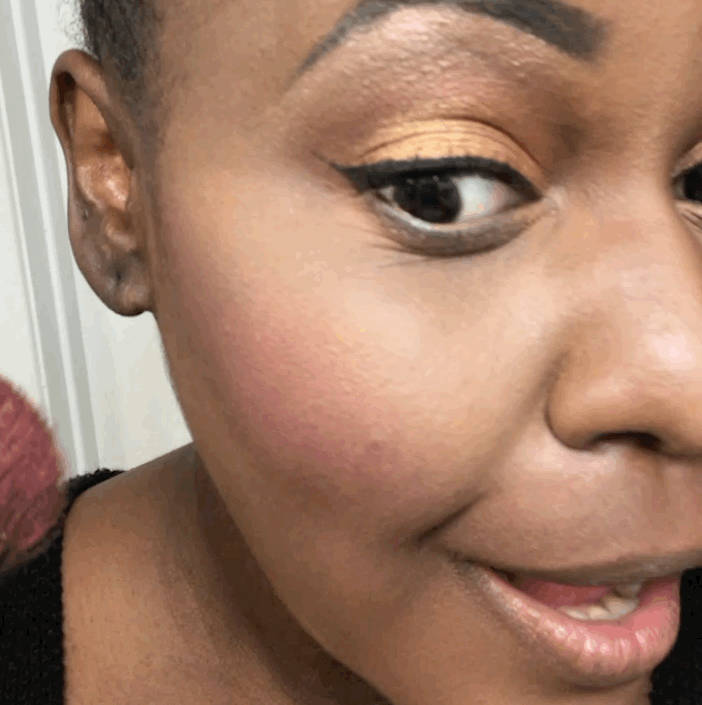 Bronzer
I use the Bronzer as a highlight, like I do most bronzers. I love that it gives me a subtle glow that I can wear as an everyday look. If you're deep toned like I am, apply it on your cheekbones, lightly on your forehead and down the ridge of your nose for the ultimate glow.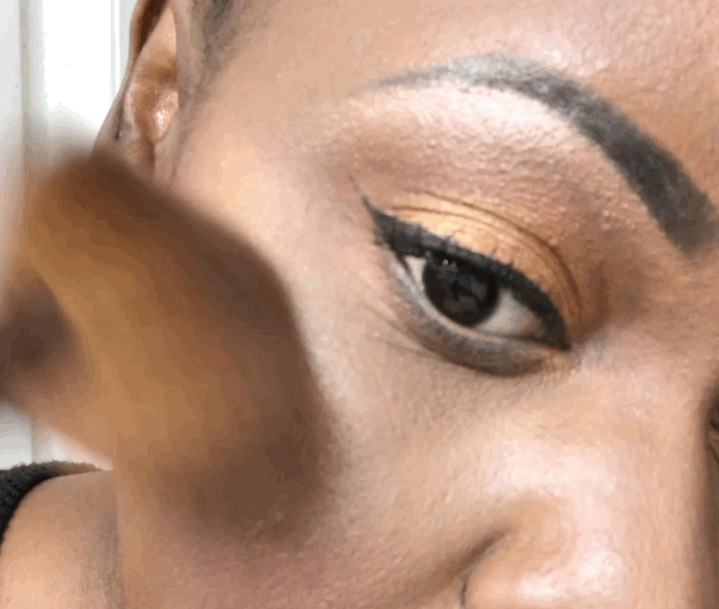 Lip-liner/Lipstick/Lipgloss
I got the Lip-liner in shade berry and I love that it has a bit of a metallic finish. I wear it on its own. The Lipstick in Dahlia has a satin burgundy finish. I like to layer it on top of the liner, then finish off with the Lipgloss for an all day shine.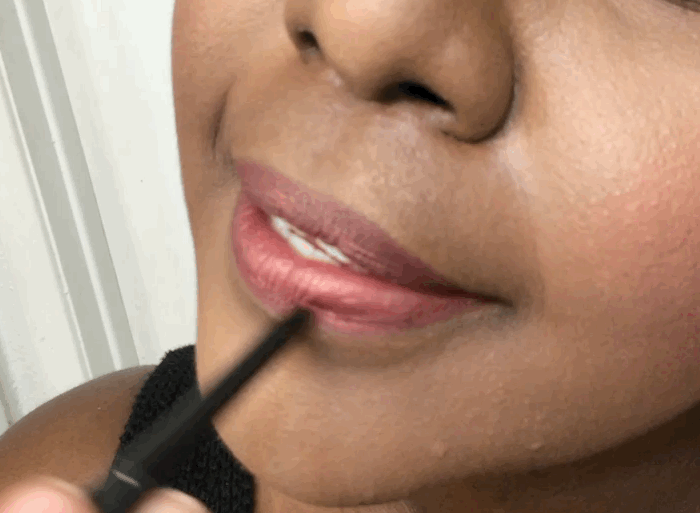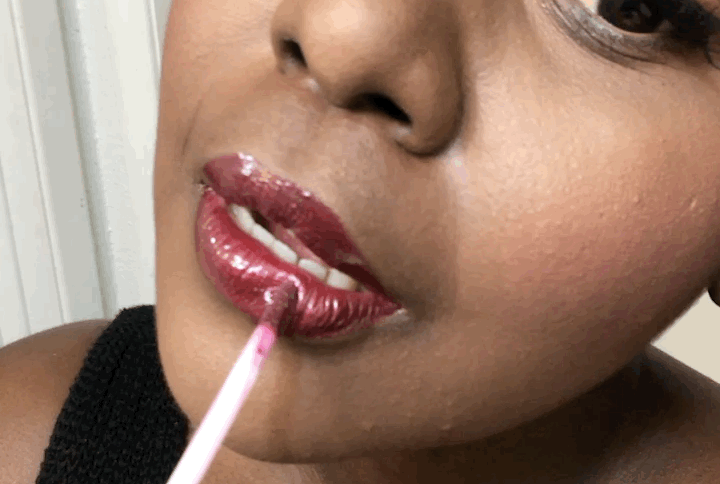 Finally, I set my entire face with the SPF 15 Translucent Loose Powder, which has a subtle illuminating finish and Voila…Buba Fabulous comes to life!
When I'm ready to take it all off, the Makeup Remover does an amazing job at clearing it all, mascara too. It doesn't dry out your skin and it's gentle on the eyes.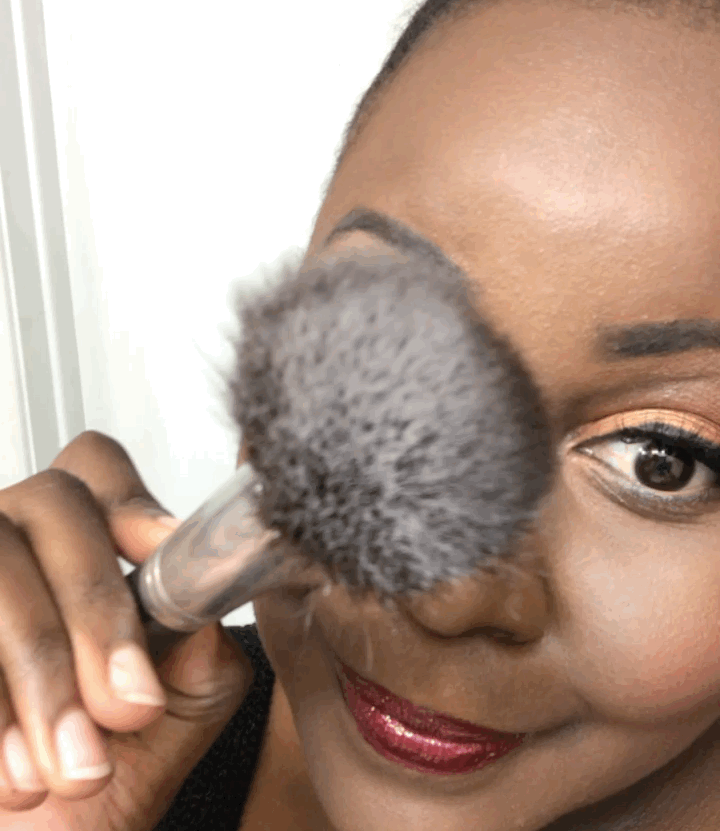 Final Take
The older I grow, the more I appreciate the importance of good skin. I would rather spend a few extra bucks on high quality makeup over cheap products with harmful ingredients. We, makeup lovers no longer have to suffer for the sake of beauty and Arbonne is one of the brands that supports this cause.
Arbonne is currently available in seven countries (USA, UK, Canada, Australia, Poland, New Zealand and Taiwan) and continues to grow in so many markets.
The brand also offers people an opportunity to start their own business and let go of the daily hustle that comes with being employed at a 9-5 job. You could work on your own time, wherever you want, selling great cruelty-free products. Partners can earn anywhere from $1000 to over $21,000 a month, and with higher positions, come perks like travel and owning a Mercedes Benz.
I partnered up with Claire who's an Area Manager for Arbonne to review these products and let you know if they are worth using and selling. I definitely recommend this brand especially if you have super sentive skin that reacts easily to cosmetic products. The quality is just as good as something I would find in Sephora and better than the majority of drug store products.
If you want to be your own boss and look beautiful doing it, Arbonne is a good place to start. Reach out to Claire, if you're interested in joining the Arbonne community and she is happy to get you started.
Here's her contact,
Claire Hammill (Area Manager, Arbonne International)
Email: [email protected]