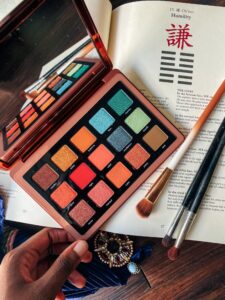 I own an admirable collection of eyeshadow palettes so a brand's new release would have to be VERY convincing to take my money.
My perfect palette is one I can travel with and not need supplemental shades like a dark shade to create smokey looks or a skin tone transition shade for my crease. I call them Palettes that travel because they are functional enough to give multiple looks with only the shades from that palette.
Natasha Denona's beauty is brand is one of those where I will blindly buy her products and know she will deliver. My favorite thing about her products is her love for color, especially with eyeshadow. Many palettes seem to have too many pastel colors that swatch similar especially on women of color, but Natasha Denona will give you versatility in shades, formulas and her palettes always have a story.
The Zendo Palette has a theme of balance. Its mostly warm, which is an important factor for a functional palette. It also has cool tones that can create dramatic but wearable finishes. The eyeshadow formulas range from buttery mattes to shimmery satin finishes and foil-like textures. I appreciated how the formulas complimented the shades. The transition shades that are more earthy and suitable for the crease come in matte formulas which soft and easy to blend, while the accent shades that go on the lids and are meant to stand out come in shimmery and foil shades. You'll be surprised how often brand palettes get this wrong.
The palette also has teal tones that are a beautiful touch. I love that they perform well on deeper skin tones because the struggle can be real sometimes. The eyeshadow might look light blue in the palette and chalky white on your lids.
This palette checked all my boxes for the ultimate palette. The meditative names are a thoughtful touch. This is one to own.
Here's a look I created.