I credit this recipe with teaching me how to fry chicken at home because prior to this, my fried chicken was always undercooked on the inside with a hard, burnt coating and I had given up with home-cooked fried chicken. The trick is in the temperature of the oil. The magic number is 350 degrees F (175 degrees C) and for those that don't have temperature markings on their stovetop knobs, I usually go for the marking just before halfway. Also, you have to give the oil time to completely heat up.
I cook impulsively so it's rare that I have chicken marinating all night which is great for flavor purposes however, seasoning the chicken before frying works just fine too. If you marinate the wings the night before, cover and save them in the refrigerator but they should be at room temperature before frying, so take them out about an hour prior.  These wings are breaded and fried, before covering them in the spicy honey butter sauce so you get a sweet, spicy and crunchy combo in one bite. This serves 2-3…Let's dive in.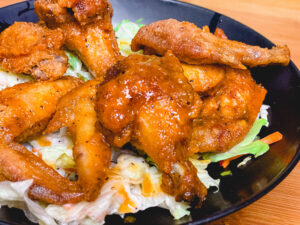 You'll need
Seasoning the chicken
20 chicken wings and drumettes (10 pieces if they aren't separated)
2 tsp paprika
2 tsp garlic powder
1 tsp ground black pepper
1 tsp of pink Himalayan salt (or your preference)
Breading
1¾ cups of all-purpose flour
1 tsp paprika
1½ tsp pink Himalayan salt
½ tsp black pepper
Vegetable or canola oil for frying
Spicy Honey Butter
1½ sticks (6 ounces) of unsalted butter
2-4 tbsp of sriracha or hot sauce
2-3 tbsp honey
½ tsp pink Himalayan salt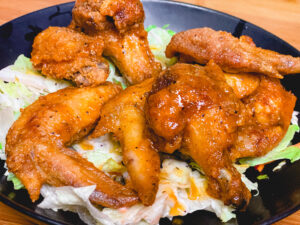 How to make it
I use a wide thick frying pan which takes time to heat up, so I add the oil and let it heat up while I prep the chicken.
Season the chicken. And have it at room temperature before frying for more tender meat. In a medium sized bowl, add the flour, paprika, salt and black pepper. Mix until even. Toss the wings a few at a time until fully coated and place on a baking sheet.
Carefully add the wings into the oil (you can use tongs). If you have a deep fryer, more power to you. If you have an air fryer, (I'm rolling my eyes in envy) skip the breading. Ideally, the oil should cover the entire wing, but my large frying pan works great—at the 15-minute mark, or when underneath the wings are golden brown, I flip the chicken for about 6 more minutes. Don't crowd the wings—fry in batches and drain the wings on paper towels.
While the wings fry, I make the spicy honey butter. Melt the butter on very low heat, and if you insist on using a microwave cut the stick up in even pieces and carefully watch while it melts cos I looked away for 1 second and "boom" all the butter was on the roof of my microwave. Remove from the microwave right before it completely melts and stir it around to melt the rest. Allow the butter to cool down.
Add sriracha, honey and salt to the melted butter. If you're feeling adventurous, add ½ a teaspoon of lemon pepper seasoning or lemon juice for that tangy taste. Add more salt if necessary.
Place the wings in a bowl that leaves enough space to shake them around. Drizzle the melted butter over the wings, cover the bowl and gently shake to cover the wings with the sauce.
Serve it up baby!