If Hogwarts had a BBQ place, I imagine it would look like this—and not in a pop-up fandom way but the real thing. The outside of Friendship BBQ is so concealed (not to mention, the name), you'd think nothing of it until you open the doors into a modern magical experience. The restaurant is adorned with fiber string lights and at the head, a mini stage for a small band or open mic night. You can choose between a booth or table seating. And then there's the circular booth cage that gives major girls-night vibes.
Its Chinese BBQ menu is a good reminder that China doesn't waste food. I've heard of chicken heart, but chicken skeleton and duck intestines took me by surprise…in an impressive way. I love restaurants that give you an experience and these guys stay true to the cause.
The servings are small and reasonably priced which is great for trying multiple items. I kept it safe and started with the grilled wagyu and chicken skewers which were great but then I ordered Mongolian beef and New Orleans chicken wings and they were as perfect as can be. The peach tea with boba is alright but the peach smoothie is better.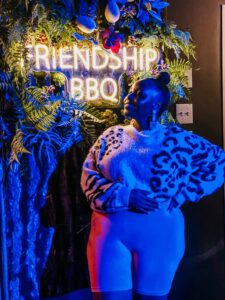 Friendship BBQ is located in a shopping center right in the heart of Houston's "Chinatown" and I quickly popped into a tiny restaurant across that sold Dim Sum, only to be disappointed with rude customer service which reminded me as to why I don't visit authentic small-business Asian restaurants as much as I'd love to—at times, you get mind-bogglingly treated as "other" while supporting the business.
I walked into Friendship BBQ with low customer service expectations only to have the kindest servers and staff. So yes, try the restaurant—all are welcome, and no one will judge you for taking 100 pics. They have multiple locations in major U.S. cities. Remember to be more open minded than I was and try the lamb feet.