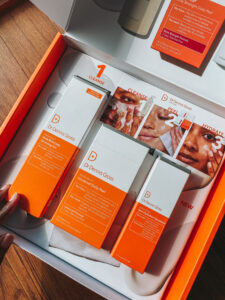 #DrDennisGrossPartner Your skin should be one of your favorite relationships and besides eating clean and drinking water, the choice of products has to be right. I've been using the new Alpha Beta 3-Step Kit for a few weeks now and I just love how radiant my skin looks even at the end of the day.
When Dr. Dennis Gross skincare introduced the Alpha Beta® Universal Daily Peel, I knew the brand was onto something. The chemical peels have a two-step treatment starting with gently removing dead surface skin and then using the second sheet to soothe and replenish the skin barrier. The peels can be used night or day, although I prefer nighttime because skin rejuvenates while you sleep.
Why Exfoliate?
Your skin will naturally shed every 28 days, and exfoliating helps to break up and remove dead cells from the surface of the skin, revealing your new healthy skin cells. Without exfoliating, dead skin cells pile up on your skin and make it look dull, rough and dry.
I prefer chemical peels when exfoliating as there's no risk of having little cuts and abrasions that physical exfoliants could cause. DDG's peels use alpha hydroxy acids (AHAs) and beta hydroxy acid (BHA) that break through the dead skin cell bonds. You need to let step 1 of the peel sit for about 2 minutes for the magic to happen. Step 2 neutralizes to stop acid activity and helps remove dead skin. The peels come in three strengths that cater to all skin types, even sensitive skin. I've been using these peels since 2016 and they're a must have in my beauty routine.
The Alpha Beta® AHA/BHA Daily Cleansing Gel is a makeup lover's dream come true. I only need a makeup wipe and one pump of this cleanser, and all my makeup is off. Also, I love how this cleanser doesn't dry out my skin. It's so gentle you can use it around your eyes, and it will breakup that stubborn mascara. A good cleanser that cleans your skin properly, is going to take away dirt and bacteria that could be the cause of breakouts, so if you have acne that's being caused by environmental pollutants, I recommend having this cleanser in your routine.
When I tell you this moisturizer flies off the shelves…the Alpha Beta® Daily Moisturizer is such a wonder because it's so light and non-greasy, yet it delivers a glow like no other. You can literally see my skin glowing in the video and after a few days, I looked more radiant. Whether you have dry skin or oily skin, this moisturizer is great.
This 3-step kit was made for skincare lovers on-the-go. When you have a busy life, you need something that's easy and effective. The routine works day or night and gives the core aspects that a skincare routine needs­­—cleansing, exfoliating, moisturizing.
#drdennisgross #sephora @drdennisgross @sephora