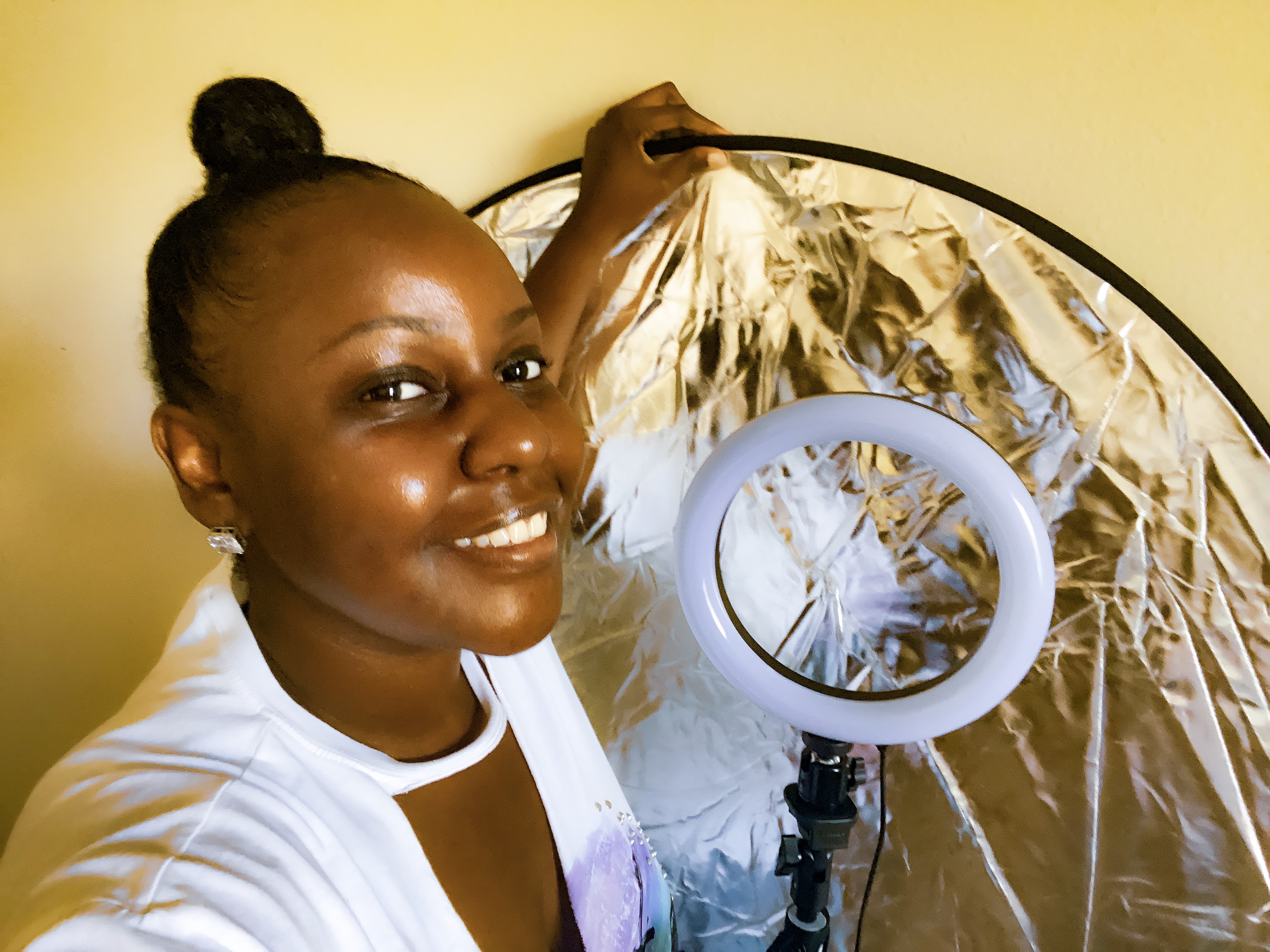 I love having quality content but also, I don't want to go broke trying to create it. It's easy to get swept up in the life of $5000 cameras that YouTube stars use to film, but that's not my budget, so I try to find affordable alternatives.
I'm constantly adding to my collection or upgrading, and I thought I'd share some new products I recently got.
Neewer Photo Studio Lighting Reflector and Stand Kit
Light reflectors are the MVP when you need light to do impossible tricks. When I took my graduation shots, it was a very cloudy day and there was barely any light to work with. Thankfully, a photographer who was shooting another group let me borrow her reflector and that's how I got some amazing shots.
This 5 in 1 reflector comes with silver, gold, black, white and translucent surfaces. Gold warms up the picture, Silver brightens the picture, white bounces light into shadows, black blocks out unwanted light and translucent softens light and is often used overhead. I'll mostly use my reflector with outfit shots however, I'm also excited to see how it works with beauty and product shots. Purchase
UBeesize Flexible Phone Tripod
If you're about the vlogging life, a mini tripod is necessary. This is one of those tripods that can bend whichever way you like. What I love about it is that it comes with an attachment to hold my phone and a wireless remote shutter that is compatible with iPhone, Android and Samsung. When I use this tripod to take pictures, I like that my selfies don't look too obvious. The cover shot for this post was taken using this tripod and my iPhone. Purchase
Dual-head Lavalier Microphone
Shooting content with company can be difficult especially when you're trying to figure out the sound. This microphone setup is going to sort that out for me. With two of these and a headset splitter, I can have four microphones serving audio all at once. Purchase
Ring Light with Tripod Stand & Cell Phone Holder
When ring lights first came out, they cost $200. I got this for $31.99. A ring light is every beauty blogger's dream. It creates well rounded lighting for beauty shots and video tutorials. Besides that, a ring light is also perfect for portrait shots. I liked this specific one because it also came with a phone holder, so all I have to do is place the ring light in front of me, attach my phone to the holder and I'm live. Oh, and did I mention, it has three color lighting modes that can be dimmed or brightened. Purchase
Selfie Light Ring Light
Fact, restaurants always have the worst lighting for pictures. I love to take food and group shots, so this selfie ring light comes in handy. I simply prop it over my phone, and it will light up anything in front of it. It's thin enough to fit in a purse and the light can be dimmed or brightened. Purchase
What tech gadgets are you into?