There's something about the "New Year, New Me" attitude that makes us want to pick up new healthier habits, even though we know they wont last past the 2-week mark. I'm not here to judge, I'm only here to inspire your wellness choices with simple hacks like this green juice recipe.
I love this recipe as it has no added sugar. The apples and oranges ease up on the leafy taste and your drinking experience doesn't feel like a punishment.
Green leafy vegetables like kale are packed with vitamins A and K which reduce the risk of heart diseases and slow down mental decline. Celery and apples have fiber and prebiotics that promote healthy gut bacteria. Citrus fruits like oranges and lemons are a great source of vitamin C, which our immune system loves.  A touch of ginger doesn't just elevate the taste, it also eases digestion and can help to lower blood sugar.
The recipe is quite simple and will fill a 75 oz jug. You'll need a juicer/blender and a fine mesh strainer.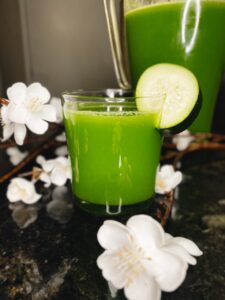 INGREDIENTS
1 celery bunch, chopped into 1-inch pieces
A medium sized ginger root, peeled and sliced
2 granny smith apples, quartered
1 ½ cucumbers sliced
1 lemon, peeled and quartered, seeds removed
3 oranges, peeled and quartered, seeds removed
6 – 8 cups fresh kale
Water
STEPS
Depending on how big your juicer is, you might have to blend your ingredients a few at a time. Start with kale and lightly pack it to fill up the blender halfway, then add a few of the remining ingredients. Pour the water to fill up the blender ½ way and blend until you have a smooth consistency.
I recommend using a large strainer and bowl to make the straining process less messy. You can then move the pulp-free green juice to a jug. This green juice is good for about 3 days while refrigerated.