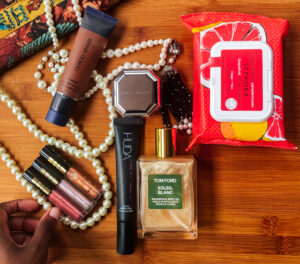 If there's one thing can all agree on, its that we're going to live this summer to the fullest. I'm here to share some makeup favs that have stood the taste of time when it came to my oily skin against some good ole Texas heat.
Huda Beauty Matte Perfection Pre-Makeup Base Primer
As much as you want your summer makeup to remain intact, you also want it to feel light. Although this isn't the strongest matte primer I have tried, I love that it feels light on the face and keeps foundation in place. It has a runny consistency, so I like to give the tube a few shakes before squeezing out the product. A little over a pea-sized drop does the job. I lightly spread it in my palms and press it on to my face starting with my shiniest areas…my cheeks, forehead and nose, then press what's left on other parts of my face. Give it a minute or two to dry before applying other products.
Giorgio Armani Face Fabric Foundation
Sadly, it seems like this foundation might get discontinued form GA's beauty line however, I wanted to give the product its flowers. This is truly one of the best foundation formulas on the market. I truly hope it comes back. It's a mousse to powder foundation that's lightweight and buildable with a smooth skin like matte finish. The foundation in particular lacked a good range of shades but if you were lucky to find yours, it would quickly become a go-to fav for its lightness and ease of application.
Fenty Beauty Pro Filt'r Instant Retouch Setting Powder
One thing about Riri, when she says matte, honey, its matte! Most of her matte powders deliver, this particular one is my go to, mostly because it blends well with my face foundations and concealers without coming off as too dark or too light. I use the shade nutmeg that is the perfect in-between of the lightest and darker parts of my face. This powder will hold your foundation intact through the sweat and poorly air-conditioned rooms, plus it gives the face a flawless finish.
Pat McGrath Mini LUST: Lip Gloss™ Trio
Pat McGrath has mastered the art of a perfect shimmer gloss. This set is a fav of mine because it has 3 mini glosses that will fit in any tiny purse for much needed touch ups while out and about. The glosses are not sticky, and the glitter doesn't collect. The set has three vibrant shades that suit all skin tones, so get it while it lasts.
Tom Ford Soleil Blanc Shimmering Body Oil
Y'all know I love a body oil. This oil has shimmer, although it will likely not show up as much on skin. It does however give skin a glowy sheen and a sophisticated scent. Read the full review I wrote here.
Sephora Face Wipes
After a long day of makeup face there's nothing better than the feeling of taking it off and applying your much needed skincare products. These wipes have proven to be very effective time and time again. They're a good start to removing makeup, with two sides, one soft, which removes makeup and mascara very seamlessly and the other, textured to exfoliate skin and give your face cleanser an easier job to do
I'll be sharing more beauty favs in the coming weeks…take care.
Checkout My IGTV video using some of these products