Falls coming (in my Game Of Thrones Voice)…but I live in Texas so summer's still here till mid-October. Here's a few super cool things I found at super cool prices.
You probably find some of them online, but I left them in plenty in the stores…let me know if you could grab any…Happy mid-month.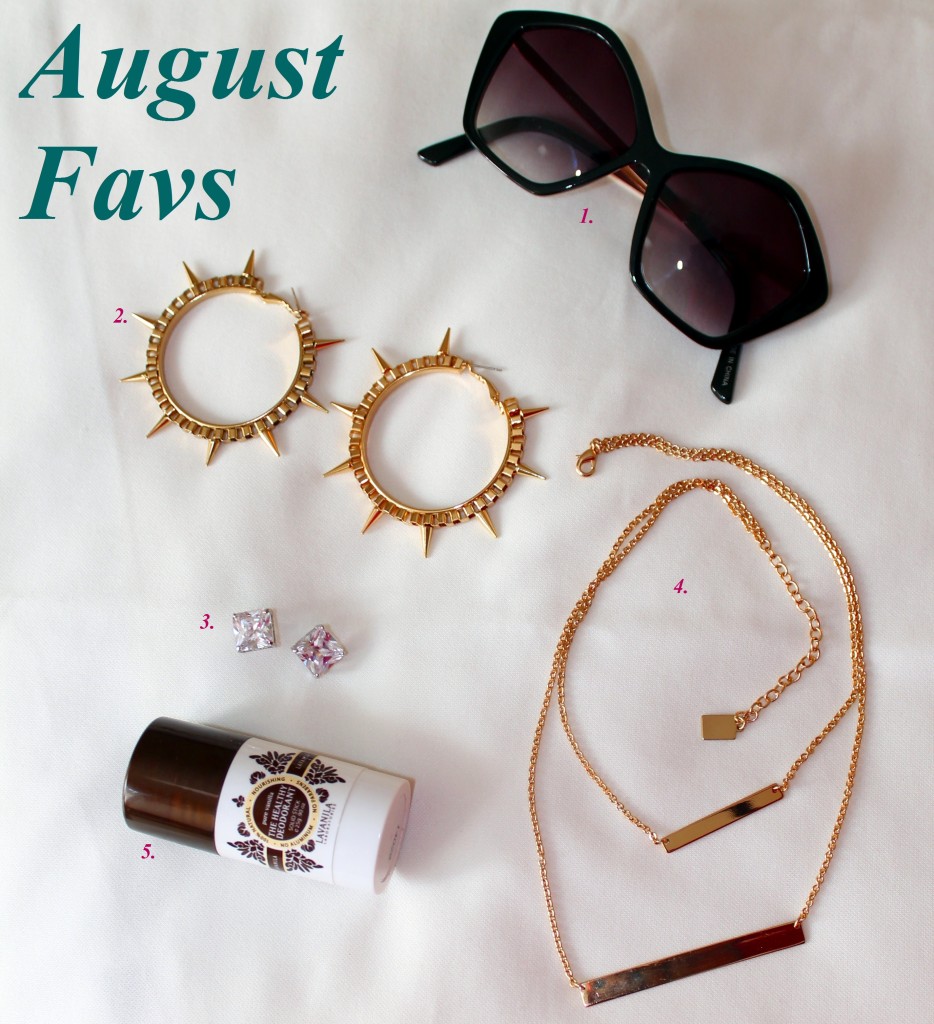 Aldo Pentagon Sunglasses
The fun cool pentagon shape is so summer-ry even in the black shade. When I first saw these sunglasses In Aldo, they were regular priced and I have quite a collection so I wasn't buying it that much. Get this, I was browsing through the store again and found them on sale at $5.98…BUY 1 GET 1 FREE. Ohhhh yeaaahhh….sold!!! I found some very similar ones here.
Studded Golden Hoops
Bought at one of my favorite jewelry stores, Nordstrom Rack. These earrings speak for themselves really. They go for $12 and also come in silver. #RockStarPower. Can't find them online soooo, you'll probably have to hit the the store for these.
Aldo Stud Earrings
They are bigger than the average stud size and they are made of cubic zirconia. Also my biggest battle with simulations of diamond stud earrings is how beautifully they glow in the store and when you get home…nothing. These live up to their glory, thank me later. $20 and you can find them online here.
Gold Bar necklace
Another favorite from Nordstrom Rack. I love love love double necklaces and necklaces with that bar thing. So getting a 2 in 1 for $19 bucks was kinda awesome. This is the closest I could find.
LaVanila The Healthy Deodorant
If you're a natural creep like me. You might want to try this $8 Aluminium free deodorant. But here's the real truth. It's great, but not as long lasting as a normal drugstore deodorant and that's probably because it has no antiperspirant so you sweat, and eventually the odor can come along. I wouldn't advice this for day time sweaty activities. Something like date night would be better. If you're not a natural products enthusiast, don't even bother with this. I probably won't be buying this again…so the search for a natural, antiperspirant deodorant continues.
Happy August guys, Buba…xoxo