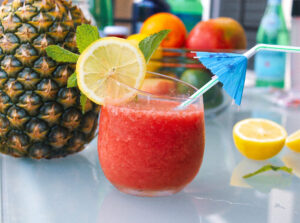 This slushie although perfect for summer, is still exciting to serve to friends who prefer something cold all season. It's sweet and minty with a kick from the ginger.
I don't get to eat strawberries as much as I'd like, mostly because of how much washing they actually require. The ideal way to wash them is to soak them in salt water for 15 minutes with a ratio of 1 cup of water to 1 teaspoon of salt. Once they are clean, you can store them until you're ready to make this delicious slushie.
P.s. Prep starts the night before with freezing the strawberries. This makes 1 or two glasses.
You'll Need:
1 cup frozen strawberries
1" ginger root sliced
½ lime
1 cup sparkling water (or alcoholic drink of choice)
1 lemon slice and mint leaves to garnish
In a blender, add sparkling water, the frozen strawberries and ginger slices. Squeeze half a lemon over the mix and blend until you get a smooth consistency. Pour into a glass and add a mint stalk and lemon slice to garnish. Serve immediately.
Watch the video below.