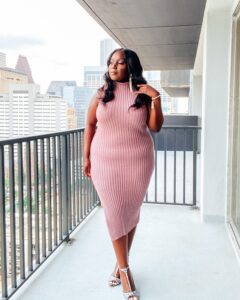 Oh hello! Yes, I still have a blog haha. I took a little hiatus (that I explained in this post). My friend Sami and I realized our wedding invite had a color dress code days before the wedding. We both love wearing black, which gave us only 5 days to find looks that fit the "neutral/blush tones" we were asked to wear.
I don't know my way around amazon shopping yet, so I took my gamble with Nordstrom as they ship items fast even with the standard option. Well, they didn't let me down—I bought my dress on Sunday and had it on Thursday.
I made this post to take you through my thought process on how I came up with the look. Okay, so I filtered my Nordstrom search to dresses, less than $100 and color selections of brown and pink. This Vici Collection dress caught my eye because I love a bodycon fit and the ribbed fabric gave it a sophisticated look. The ribbed pattern being vertical also gave a flawless illusion and for a price tag of $24.00 I was sold.
This was a sweater dress and when I'm going to wear fabrics like these to dressier events, I stick to neutral colors and no print. Typically, I would have gone for black, but to truly appreciate the ribbed pattern of this dress, a lighter color was best.
The mock neck was the one thing I didn't love so much when I chose the dress, however I tucked it inwards to make it shorter so you could see part of my neck which truly transformed the entire look. I loved that the entire ribbed pattern from neck to hem was flawless. It was giving Jackie Kennedy and Victoria Beckham (if they had curves).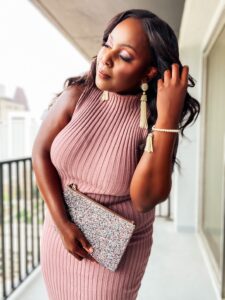 A simple dress meant standout accessories, so I dusted off my Badgley Mischka crystal shoes and the gorgeous (Oscar de la Renta inspired) pearl tassel earrings and bracelet set I wore for my sister's wedding. For dressier events, a matching set of jewelry adds a very classy touch. Also, I definitely did not want to break up the flow of the dress with a necklace. I matched the shoes with an Aldo purse that has a similar color tone and with that, we had a whole wedding guest look.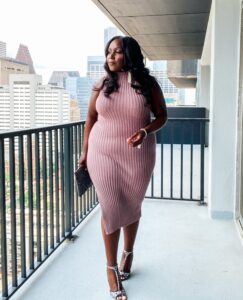 So, the theme with this look is the center piece…the dress, and for the accessories, each piece matches another—earrings and bracelet, shoes and purse. This way, the whole look is coordinated and balanced.
Do you love?
Dress – Vici Collection 
Peep Toe Heels – Badgley Mischka 
Tassel Earrings – Aldo (similar)
Shop My Favorites