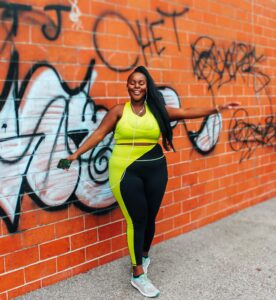 I've started off 2021 doing a lot of intentional thinking—from creating vision boards to expressing gratitude on a daily basis and being mindful of what I let get to me.
Perhaps the challenge in wellness practices like this is understanding and being okay with the idea that there are down days where you simply cannot be your best self, and that's okay. Mood changes are part of life's balance, the simple hack is in knowing how to manage the imbalances, so they don't control your life.
I've learned that if I dedicate time to feeling moody, angry, hurt or simply not myself, I release the negative energy which quickens my return to a more positive mindset. I also have little go-to reminders of things that bring me joy, that I do to lift my spirit. I love taking nature walks, I call them "Nature Therapy." I've also been spending a lot of time working on my cookbook and it's a project that has brought me immense joy, I cannot wait to share it…currently taking book-name ideas.
I'm wearing the Rahel 2-piece outfit by Fabletics. These leggings are so soft and comfy—perfect for workouts like running or yoga that require a lot of movement. The side zip-up pocket fits a phone or credit cards, giving you the ultimate handsfree experience while going about your activities.
Get this look by following this link to the Fabletics site. Also, you can own ANY 2 bottoms for $24 as a VIP intro offer.
#FableticsPartner #MyFabletics, #MoveInFabletics