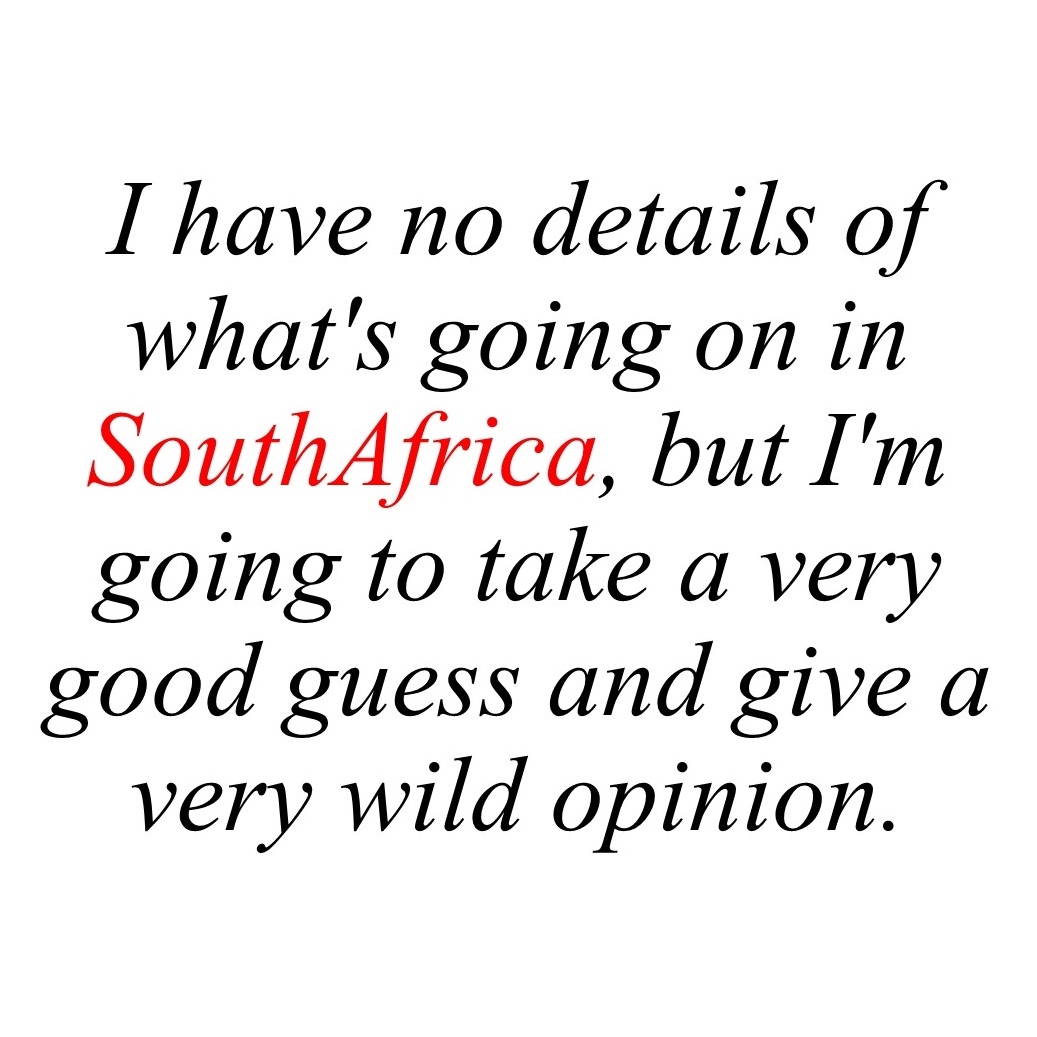 Xenophobia…hatred or fear of foreigners or strangers or of their politics or culture. Now let me say this, I have no idea what exactly happened in South Africa, have not, and will not read any article to figure out the details, but based on hearsay, and previous knowledge of this specific behavior from these specific people, I bet I can make a very good guess, followed by a very wild opinion from yours truly, the Highly opinionated back seat gossiper.
Here are a few facts that I know. Some South African natives have elevated showing their hate for other Africans living and working in their country. Some people have been killed and burned, some businesses ruined, the president and his government are yet to say anything sensible (honestly if a humane reaction is taking this long, I doubt one is coming at all). And then, there's a certain king who is taking pride in his hatred. Also based on my twitter feed, the Kenyan and Zambian governments are evacuating their citizens.
When I initially heard about this whole catastrophe, I chose not to even bother looking up this story. Not because I don't care, but because I'm so over hate, and terrorism, and cyber bullying, and university attacks, and shootings. I feel like of late, there are so many stories of negativity, and that stuff can fill you up with disappointment in the human race. There was a point in my life where I felt like, I wanna run away, but where would I go? The thought of even being ready to die (not suicidal) occurred to me. Truth is I don't want to live like this, in a world where people don't like each other, where people are stereotypical and judgmental. Where "some" presidents are trying to kill gay people. Where people consider peaceful Muslims to have the same beliefs as terrorist Muslims, it's all too frustrating. Co-exist…people!
Now these South Africans! By the way this behavior of theirs has been around for a very long time. It's just that the media didn't enlighten the world until things got worse…as usual. This topic of conversation has come up in with my family a few times. I've always known since I was like 10 that there are some places in S.A where they attack foreign Africans. I don't recall exactly what cities we talked about but I think Johannesburg and Soweto came up. Like I said, I'm not looking up anything so I'm making very wild guesses here. The story was South Africans, like other Africans, can tell just by looks, that one is a foreigner even though we're all the same color, and if you're in the wrong place, chances are high you will get attacked. So visitors were advised to hang out where the white people hangout, cos those ones have always been under attack and as a result have mastered security measures.
This goes out to the xenophobic South Africans. You ungrateful bustards! First of all, you never victimize someone for the amount of success they've achieved. We all get 3 options when it comes to someone else's success. Either to use them as an inspiration in our own success journey, use their achievements as a goal to be a better version of ourselves, or use their zeal as a point guard when we feel like giving up. You can't compare someone to yourself, you don't know their story. Don't blame someone for your own failures, you are fully responsible for your life decisions.
Secondly, if I lived in a country, where so many foreigners came looking for a job, three things would come to mind. 1) this must be a country with a lot of potential for success, 2) it should be easier for me to get through because I'm in my hometown so I can easily connect and network and 3) thank God I belong here, where the opportunities are at an arm's length, where I don't have to leave my family behind, where I'm working to better my own people and my own country.
In my perspective, the Dutch might have mistreated you, but to some level you guys need to be grateful. At least they gave you some base of development, in that when you guys took back what was yours, you had a very good starting point that no other African country had when they gained independence. But instead of utilizing what you have, you're forcefully asking for more to be handed to you without putting in any courteous effort…You. Ungrateful. Bustards.
Wow, you guys must have really feared the late Mandela, cos now that he's gone, I feel like all the bullshit is coming in from all corners. First the misuse of resources, now this. You can't hate people because they are taking up jobs and enjoying the benefits of a country with a decent economy. By the way, most times when a country is hiring, and two people have similar qualifications, chances are high an employer will take their own citizen out of pride that a brother is tryna make it.
Foreigners working anywhere in any country will always be successful. You don't leave your loved ones, for a place where you know no one, only to get nothing out of it. It's only natural that they put in double the effort. So you can't hate on someone who started their own business and it prospered. That's their own creativity. Perhaps you should consider making your own brain useful. Also, if you're going to hate foreigners in the corporate world, that's very unfair. All they did was say yes to the job. If you're going to blame someone, blame the boss who hired a foreigner over a "Brother".
Here's a little fact, you can fight for freedom, but you can't fight for success…You have to earn it! If you really hate how much foreigners are taking up your jobs, instead of roughing it up on the streets, why not pass a bill, or law…whatever y'all call it, where foreigners need to have some type of permission to have a job in S.A. Take an example of the States. The way their rules are set up, most companies cannot hire a foreigner over a citizen. If you're going to work, you have to have a working visa, of which getting that visa is the equivalent of a miracle. Their acceptance of foreigners having jobs is not very different from yours, they are just being classier about it.
This is a rant, therefore, there is no proper conclusion (truth is I don't have one).
May your weekend be merry and bright.